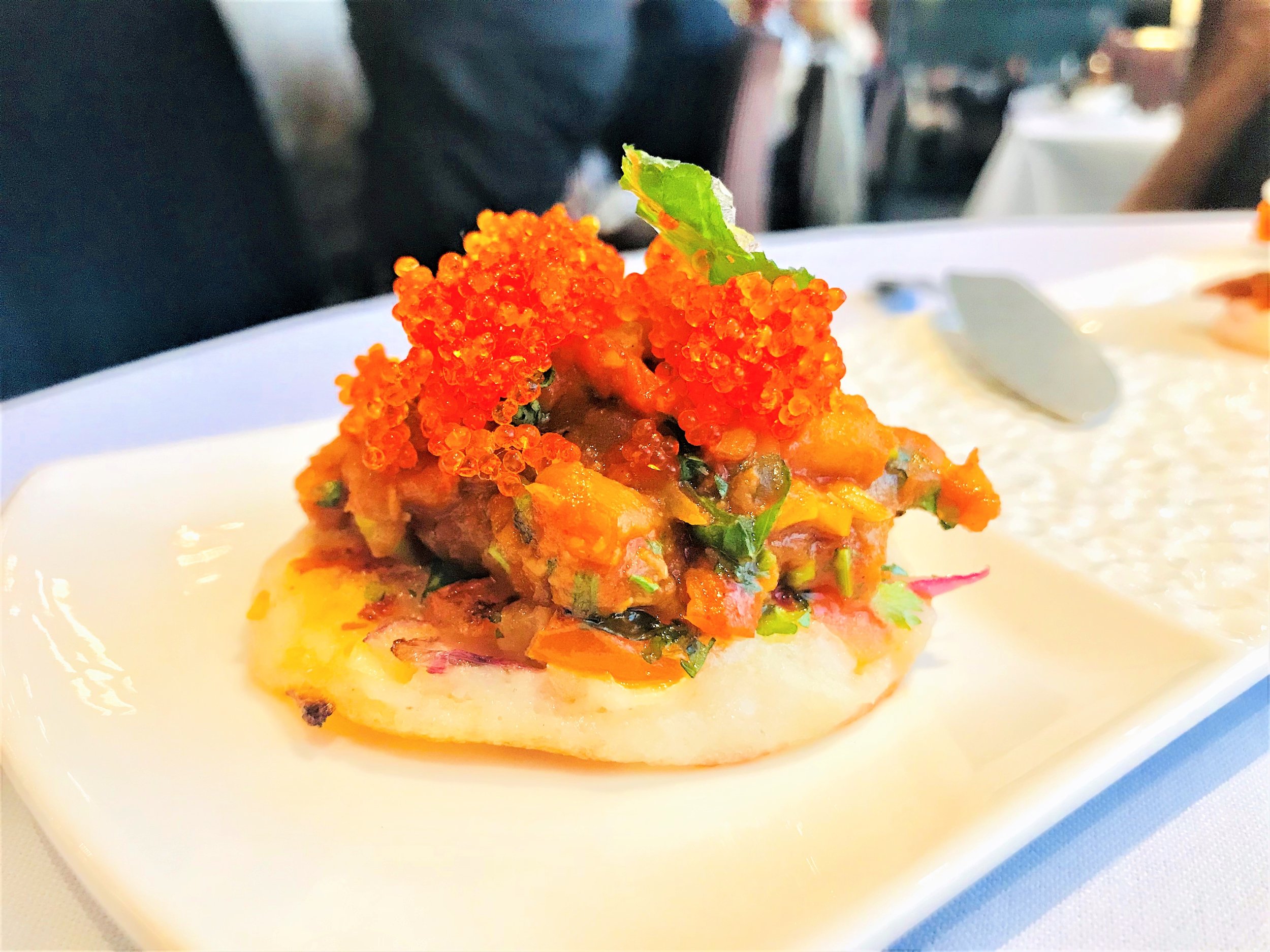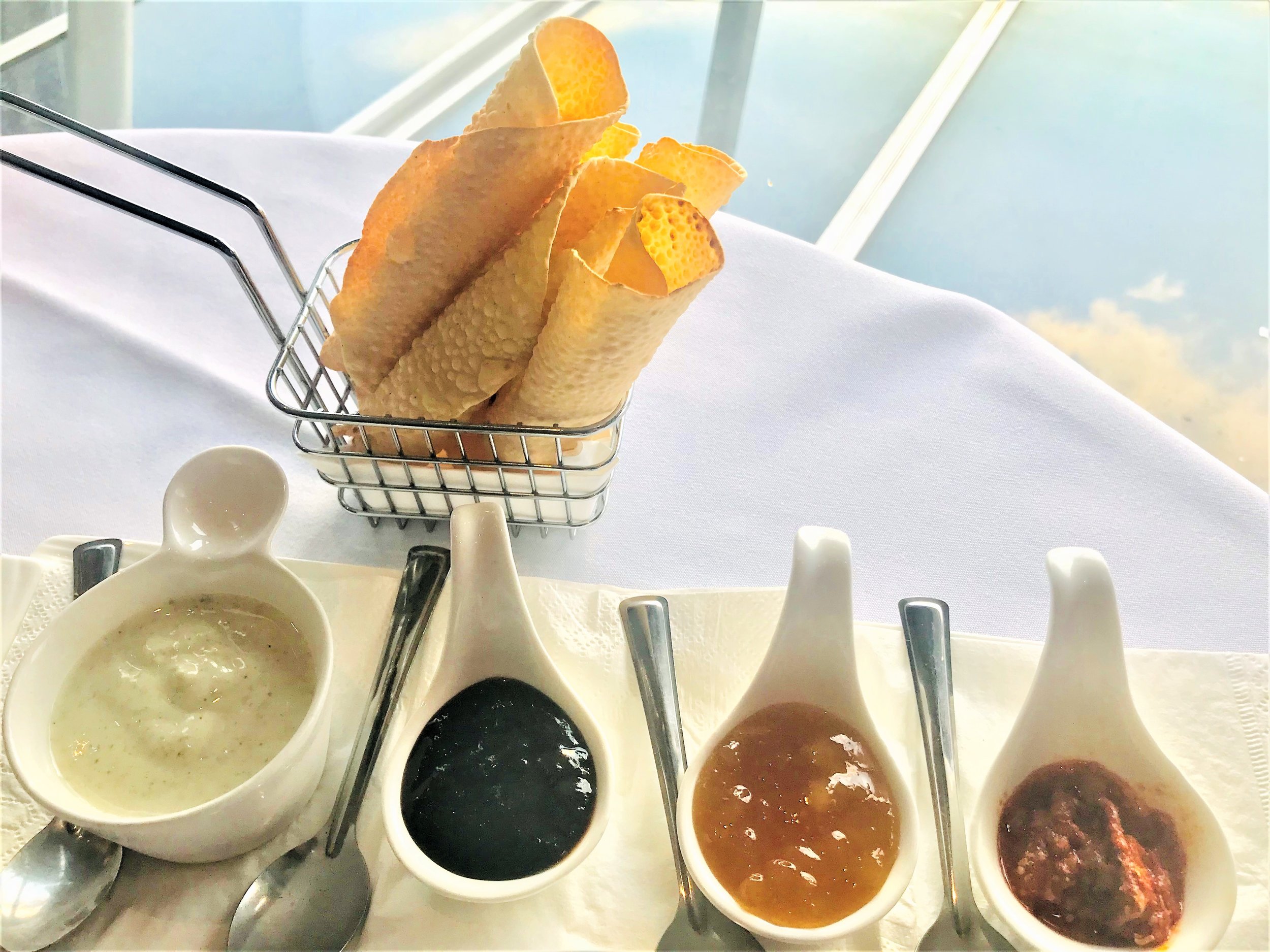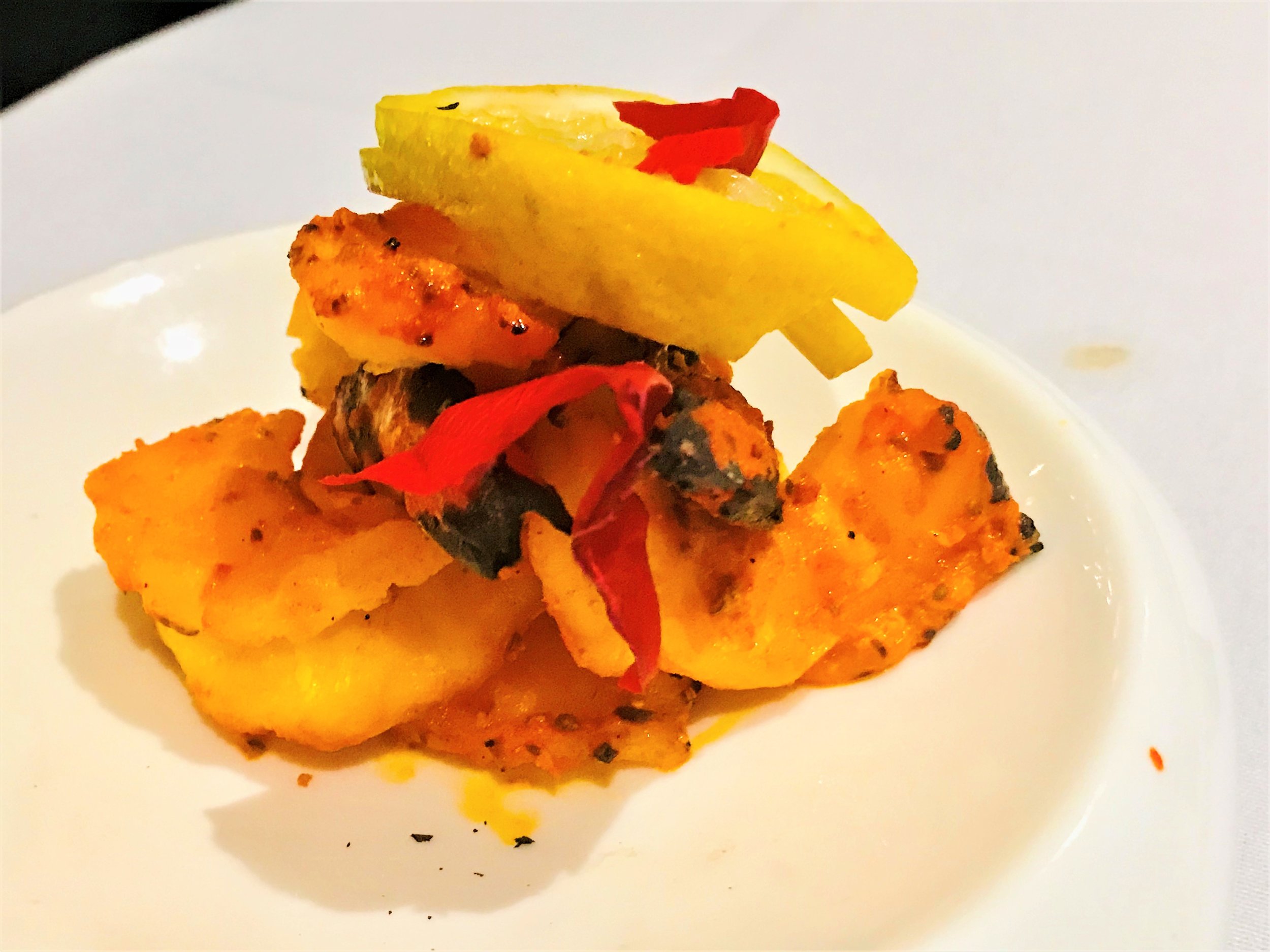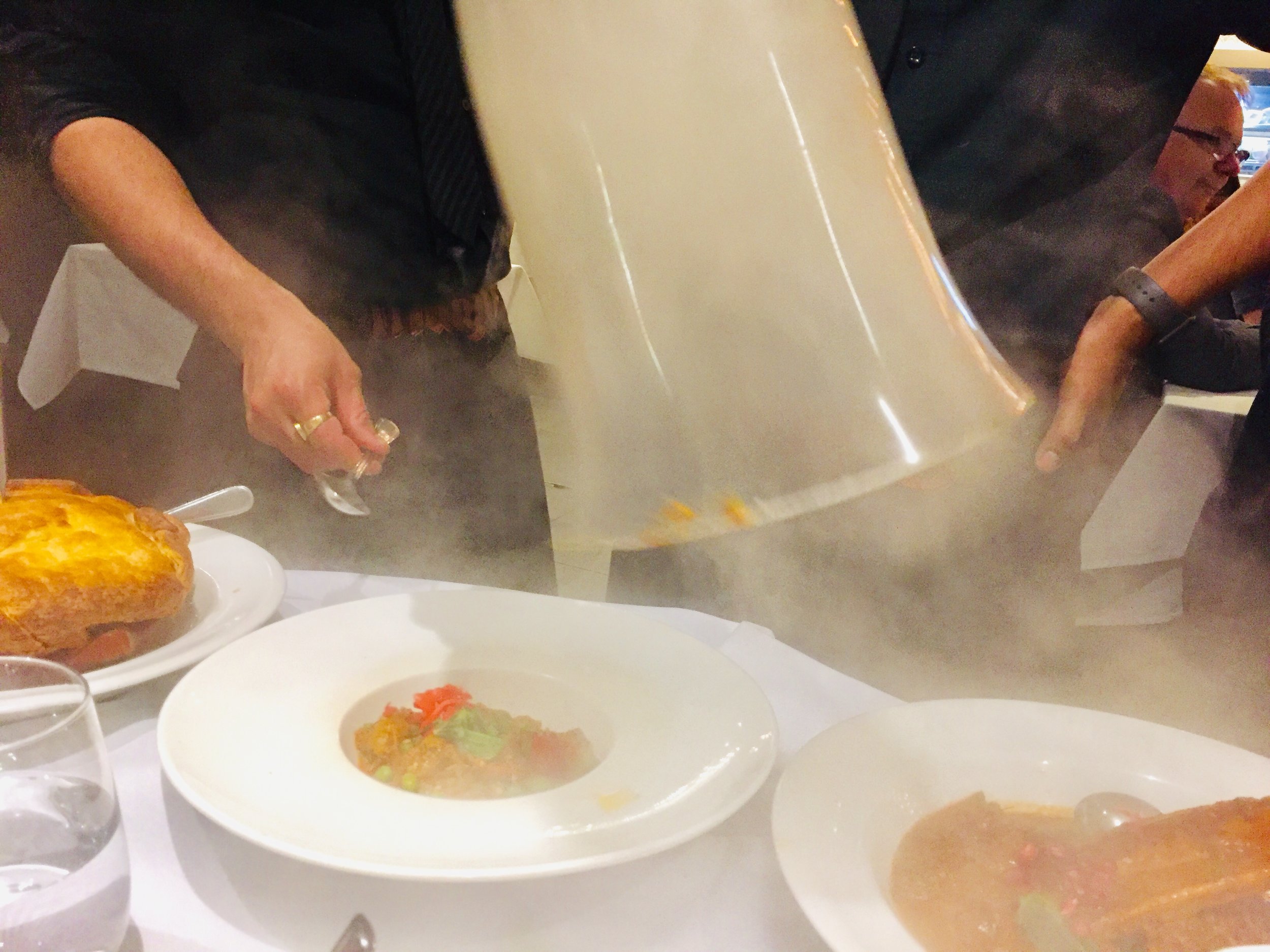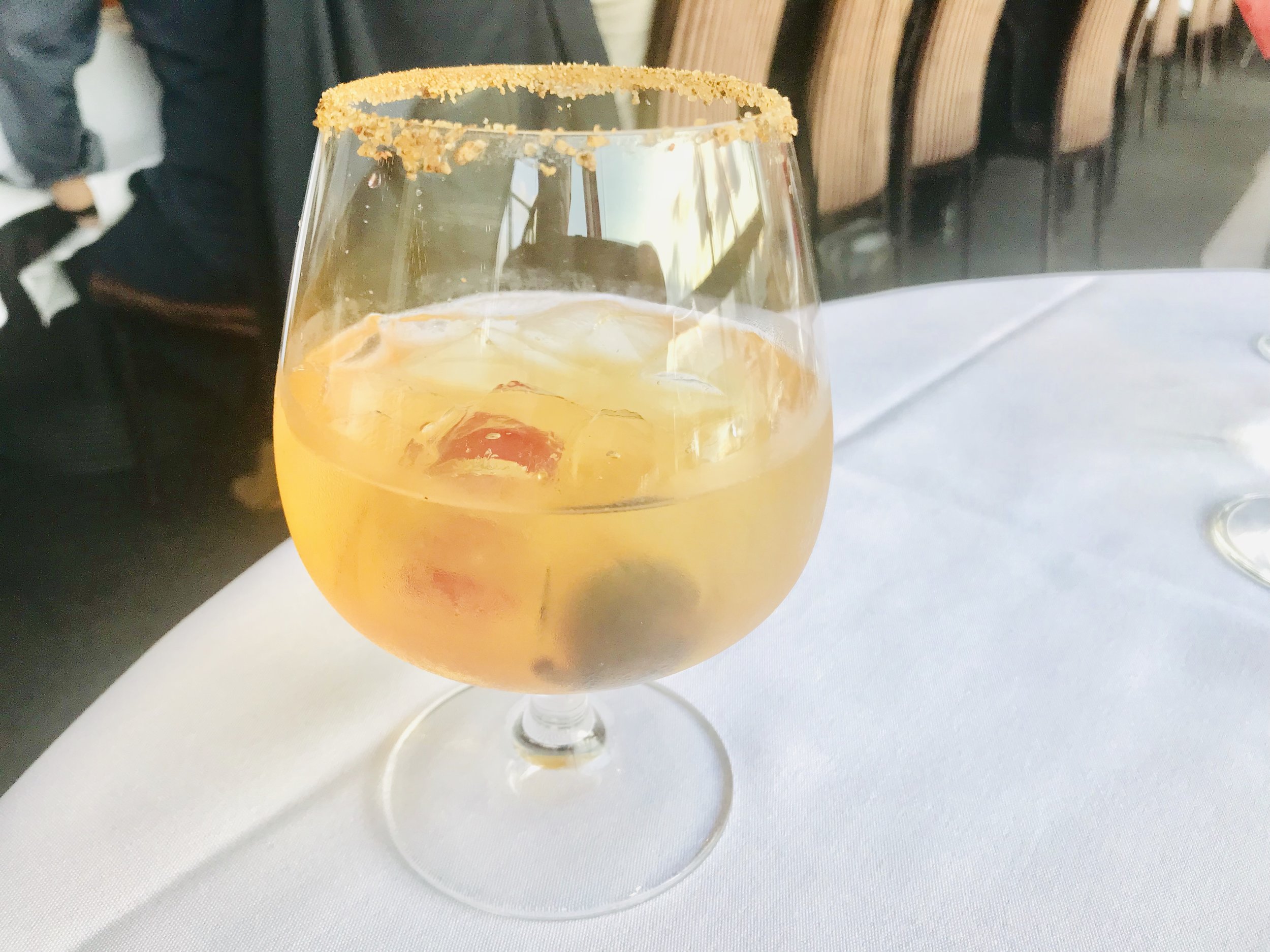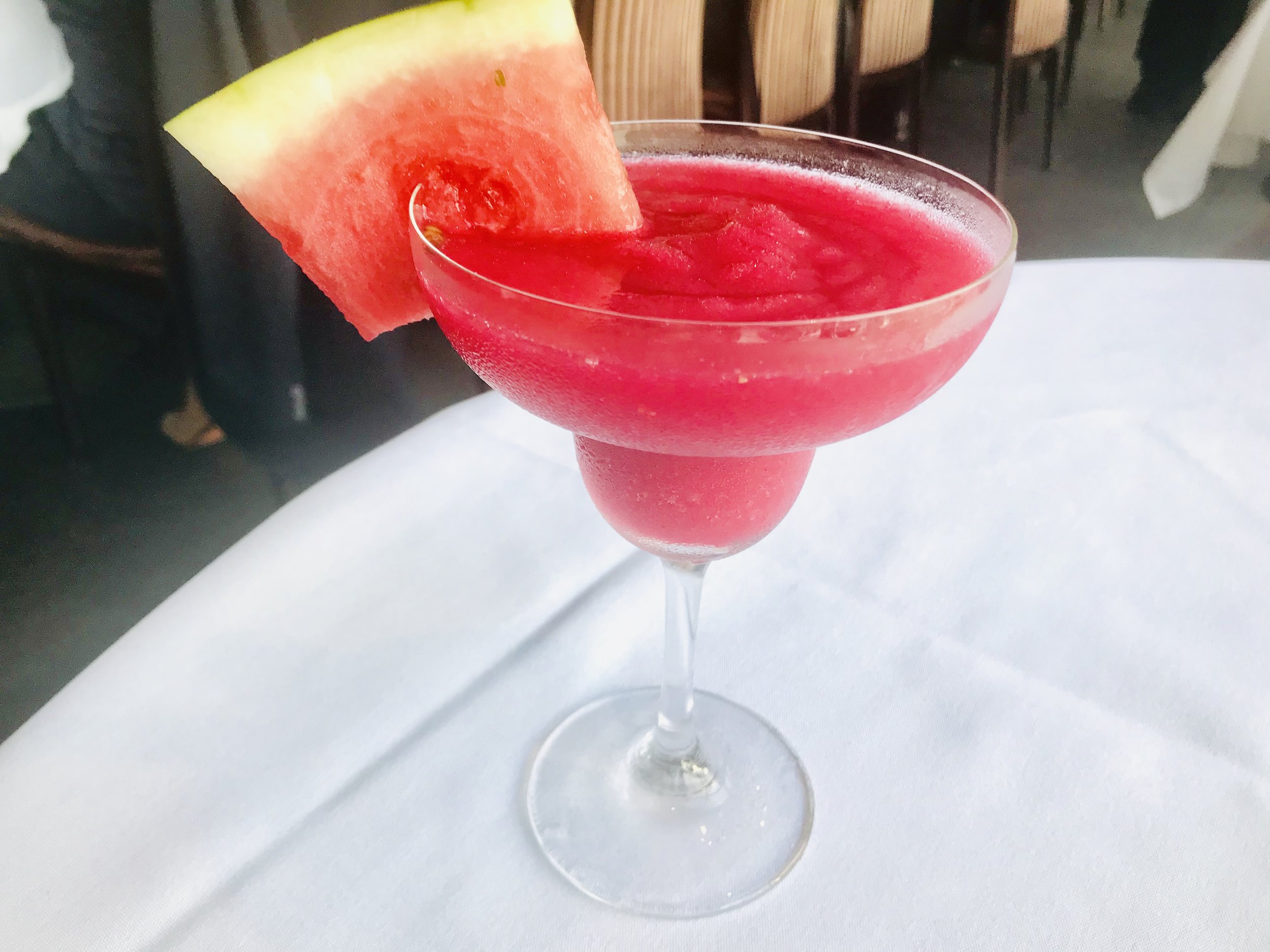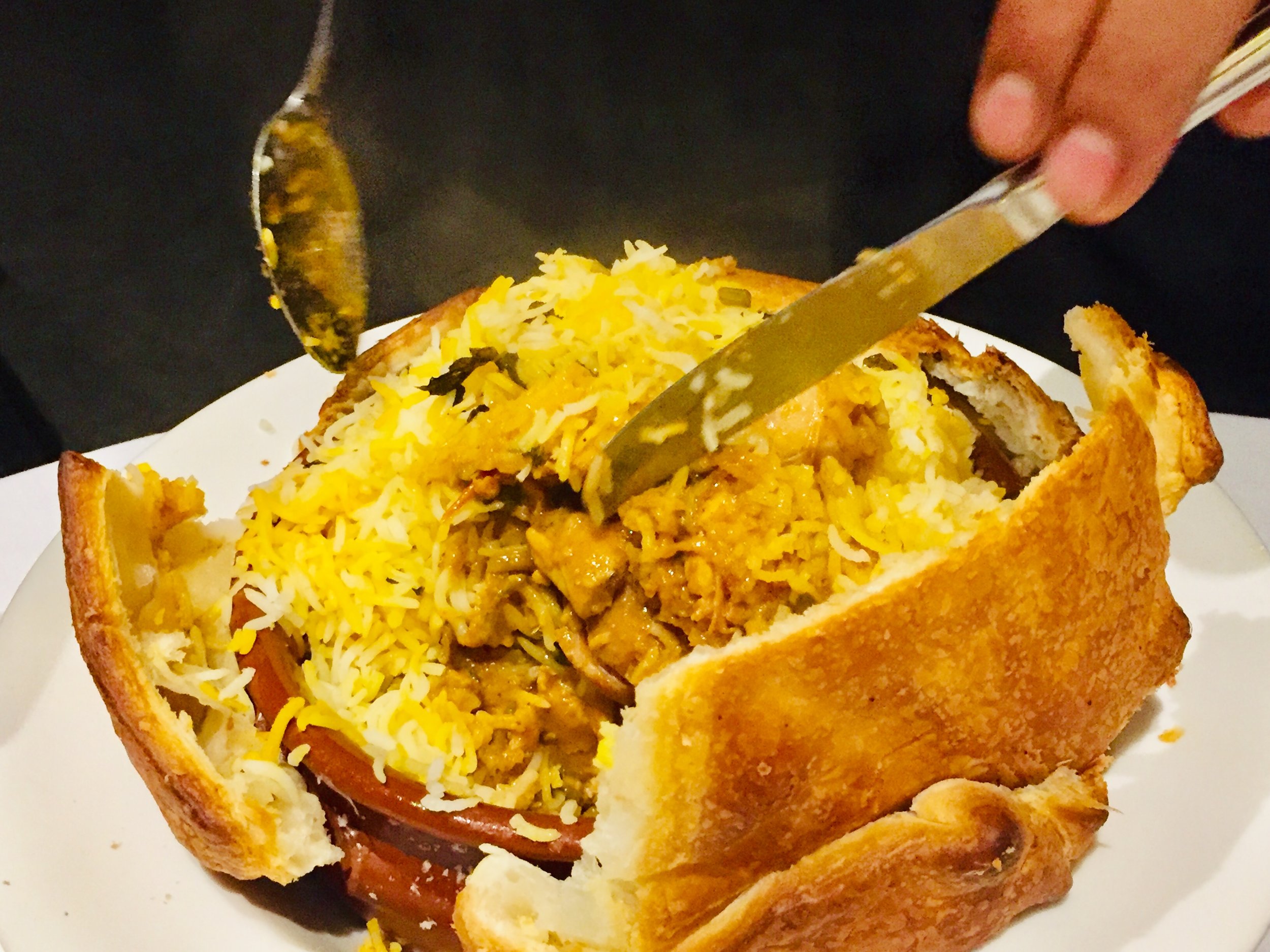 Location Location Location! For stunning views whilst experiencing fine dining Indian cuisine – Manjits @ The Wharf ticks all the boxes!
We decided to start with a couple of cocktails. Sir loves his rum so he had the impressively presented "The smoking Napali". It was made up of Nepalese Khukri rum with honey, lime, fig and cinnamon served smoked. You could taste the smokiness and he thoroughly enjoyed this rum based delight.
Mlady had the very tasty "Indian summer" cocktail. This was fresh strawberries and lychee blended with lychee liquor, vodka with lime. She likened this refreshing consistency to a slushy – but an alcoholic one. Mlady loved this cocktail and she made it last by sipping oh so slowly.
Was a lovely way to sit, relax, sipping our cocktails watching the world go by and to commence our incredible meal we sampled a very yummy serving of papadums with an accompaniment of Pudina mint chutney, Imli tamarind chutney, spicy mixed pickle and sweet mango chutney.
Our first entrée was Gol Gol Gappa. How cute was this! It was a very pretty entrée that was crispy pastry filled with spiced chickpea and potato, served with tamarind and amchur caviar. You slowly pour, careful not to spill a drop and all in one go – down the hatch. We loved this. It had such a great taste sensation. There were different complimentary textures, a nice light crunch with a good bite.
Both fans of seafood our next entrée was Fish Malai. We asked what fish was used for this delicate entrée and were told it was Ling fish. The menu describes this as lightly marinated market fish fillets tenderly roasted and served with the four signature chutneys of Indian cuisine. This literally was a work of art! Uniquely presented and it really was incredibly light. It just melted in your mouth. An exquisite dish with a good bang of flavours.
We did have some wine, both reds. Sir had a glass of Billy Button Saperavi 2016 and Mlady had a glass of Pitti 2016. Both were lovely drops.
Banjara Tikka was next. Tender grain-fed chicken fillet marinated with yogurt and spices, broiled in the tandoor oven. Finished with puree of cauliflower, fresh lemon and coriander. This was so tender, juicy with wonderful fresh flavours that went so well together.
We had another seafood dish, Crab Uttapam – rice and lentil pancakes topped with blue swimmer crab, sprinkled with fresh green chilli, coriander, ginger and yellow split pea. It was topped with caviar that had a wonderful iridescent glow. Another pretty dish that was vibrant, flavoursome and it had a good kick. When the caviar popped in your mouth you got a burst of flavour.
Tandoor prawns were marinated and cooked in tandoor. Oh yum, these were delicious prawns that were plump and had such a great taste. Really like the Tandoor flavour.
The Bharrah kebab, lamb cutlets with yogurt, garlic, ginger, lemon juice and red spices. Beautifully presented and almost too pretty to eat. This incredible lamb just melted in your mouth. Really good flavours that enhanced so well together.
Our first main was Mum's goat curry. Traditional home style cooked goat curry, with a gravy of browned onions, ginger, garlic, black cardamom and cassia bark. Goat has such a unique flavour and this tasty dish was so tender with an equally tasty sauce. Was delicious dipping the naan in this yummy sauce.
Next was lamb shoulder Anarkali (signature). Described in the menu as – A popular version of "hadi walla" lamb hailing from the North of India from the times of the Mughal Empire. A preparation of pomegranate and molasses in rich pot gravy. The lamb was beautifully tender and it was a really lovely sauce. The pomegranate gave it a good fruity kick. A great flavoured dish.
Kochin bug curry – Fresh Balmain bugs classic South Indian style, cooked in three extractions of coconut milk, gently stewed and lightly spiced with cloves and green chillies. The flavoursome Balmain bugs were in an amazing sauce. This was a really delicious meal.
Baingan Takatak – smoke-roasted baby eggplant mashed with onion, tomato and chilli prepared on the traditional "tawa" hotplate. This was another delicious dish. Wonderful flavours and textures that complimented so well.
Dum Ki Biryani is a specialty from the Moghul days. It is fragrant basmati rice, pressure cooked in stock with tender chicken thigh fillet, saffron, sultanas and nuts. It's a very impressive looking dish. It had so many great flavours and vibrant colours and we loved the flaky pastry! This was a very hearty meal. A great meal to have by yourself and equally good to share.
To soak up these delicious sauces we had a serving of plain Basmati rice and plain and garlic naan. The naans were soft with a lovely light crispness.
We were fortunate to be able to take a picture of a "Ginormous" naan. WOW! For one?
We did manage to fit in dessert. Our first was mango pistachio kulfi - India's favourite ice cream! A tall spire starting with a sweet mango cream on top, with an earthy pistachio on the bottom. Mlady loves anything mango flavoured so this went down a treat. She begrudgingly shared with Sir.
The other tasty dessert we tried was Kaala Jamum. The classic Indian doughnut soaked in sweet syrup spiced with cardamom and served warm with rose ice cream. So cute, so very tasty and loved the subtleness of the rose ice cream. A very "moreish" dessert.
To complete this incredible experience we each had a glass of the liqueur Pavan. It has a unique flavour of which we both enjoyed and it was a lovely end to our scrumptious dinner.
The food at Manjits Wharf is sophisticated, elegant, unique and very very flavoursome. The dishes we tried had amazing combinations that all complimented and nothing overpowered. There was a good balance of flavours and textures and the servings are substantial. To quote a famous phrase, "Do yourself a favour".
Sir and Mlady dined as guests of Manjits Wharf. Special thank you to the owner Manjit for chatting with us and sharing his passion. Big thank you to Chef Varun for his unique creations. Thanks also to Vivek, Bibek and Sumit for looking after us on the night. Big thanks to Jason from Spooning Australia for arranging this visit.