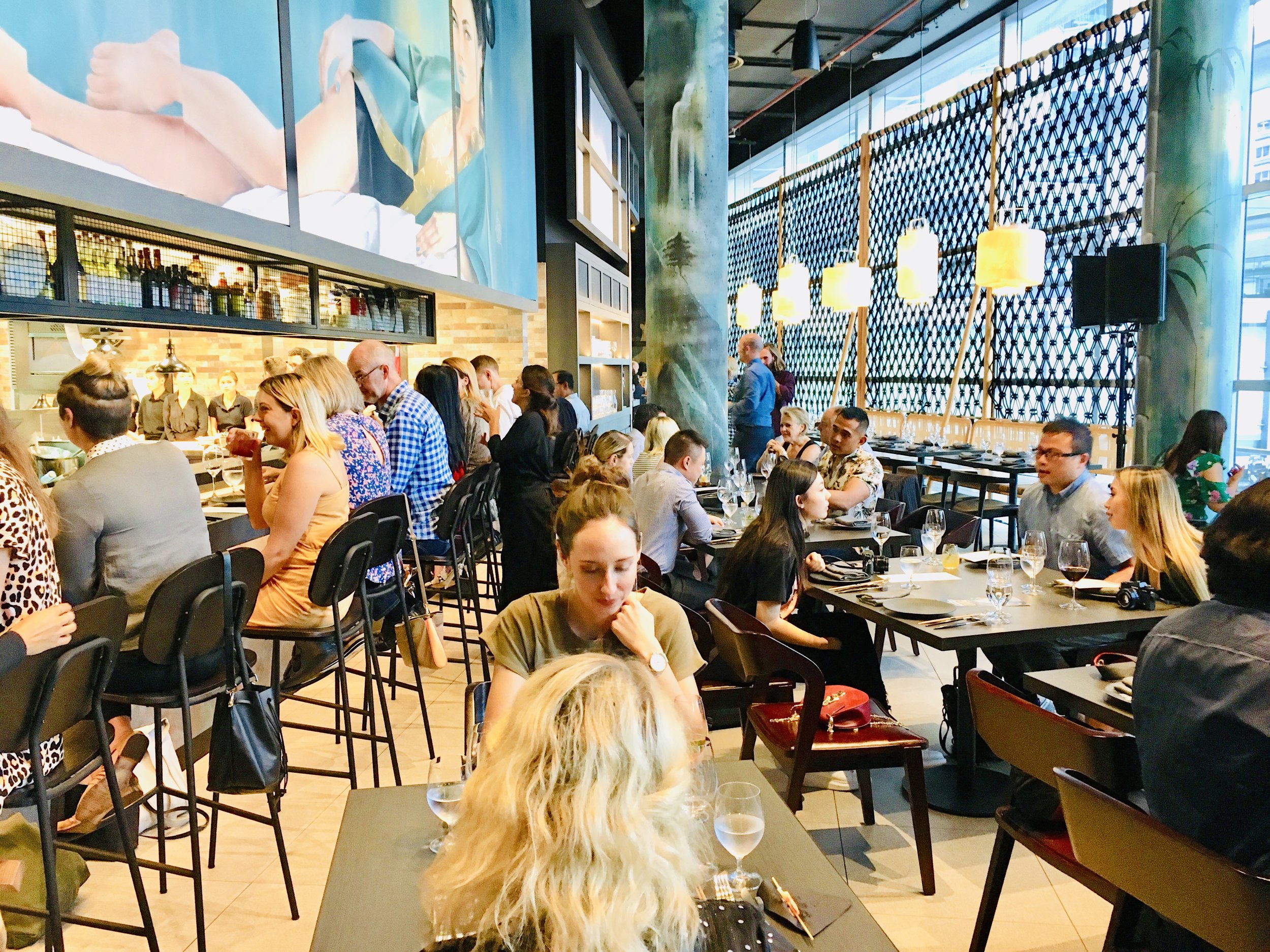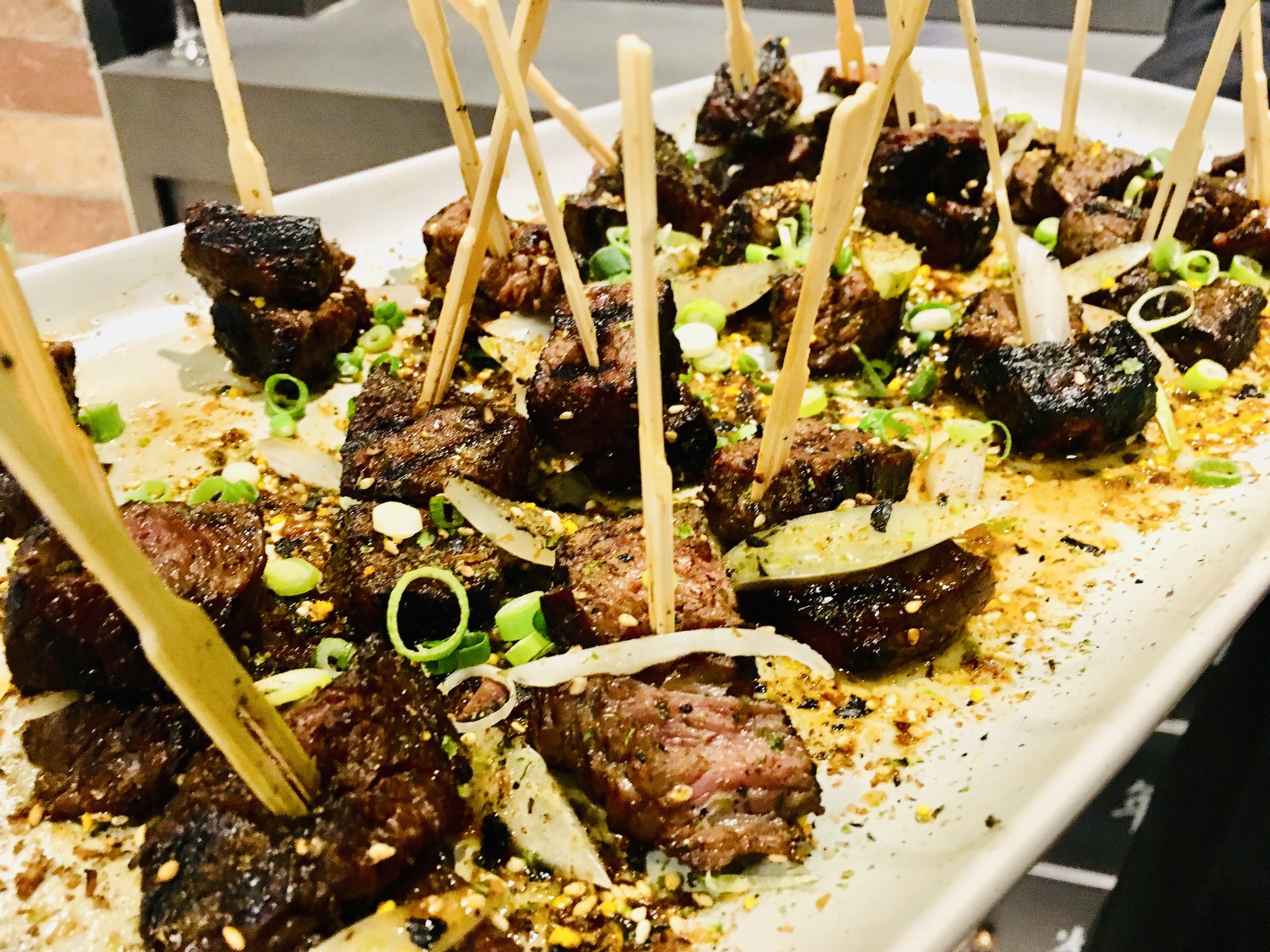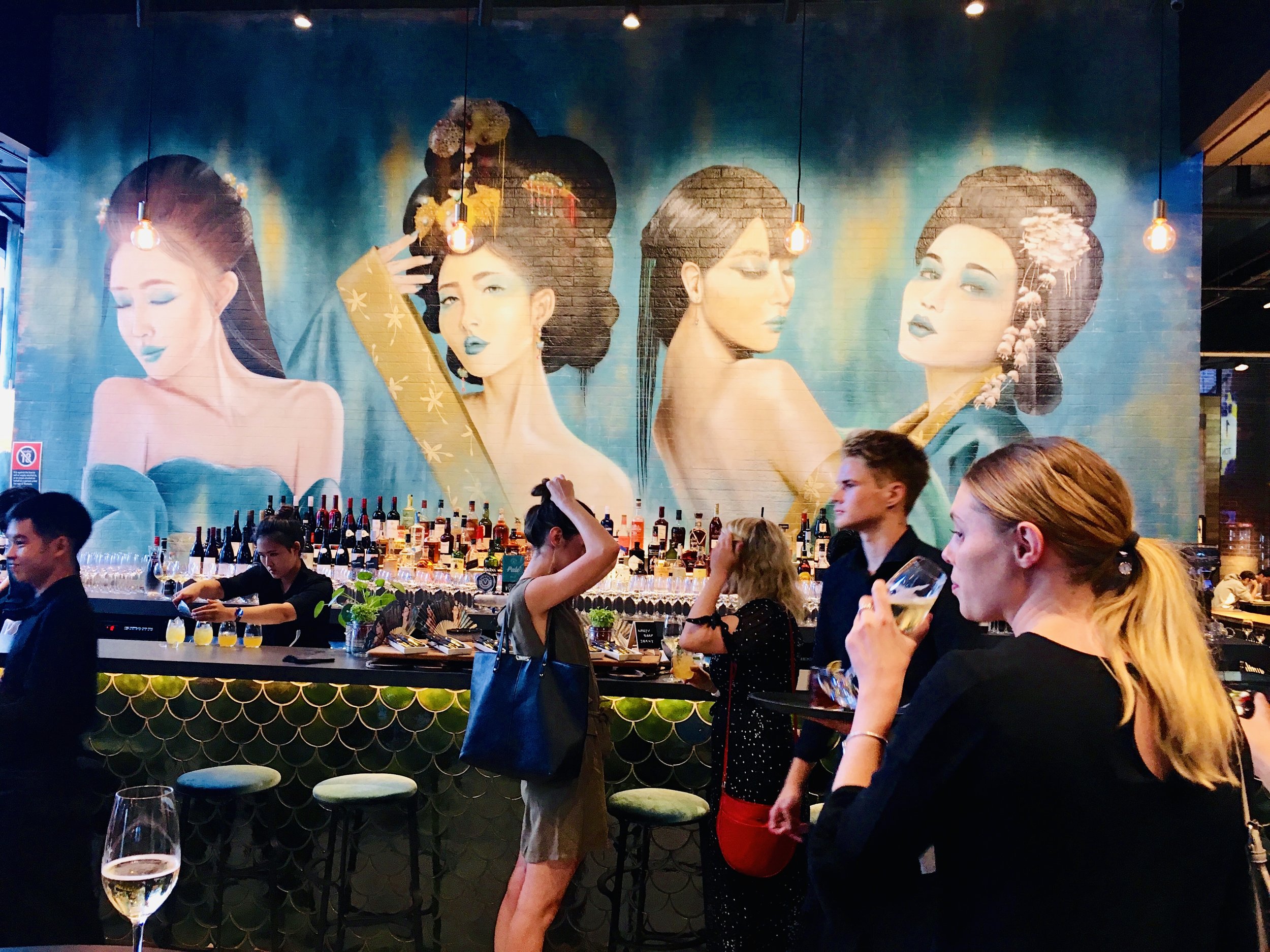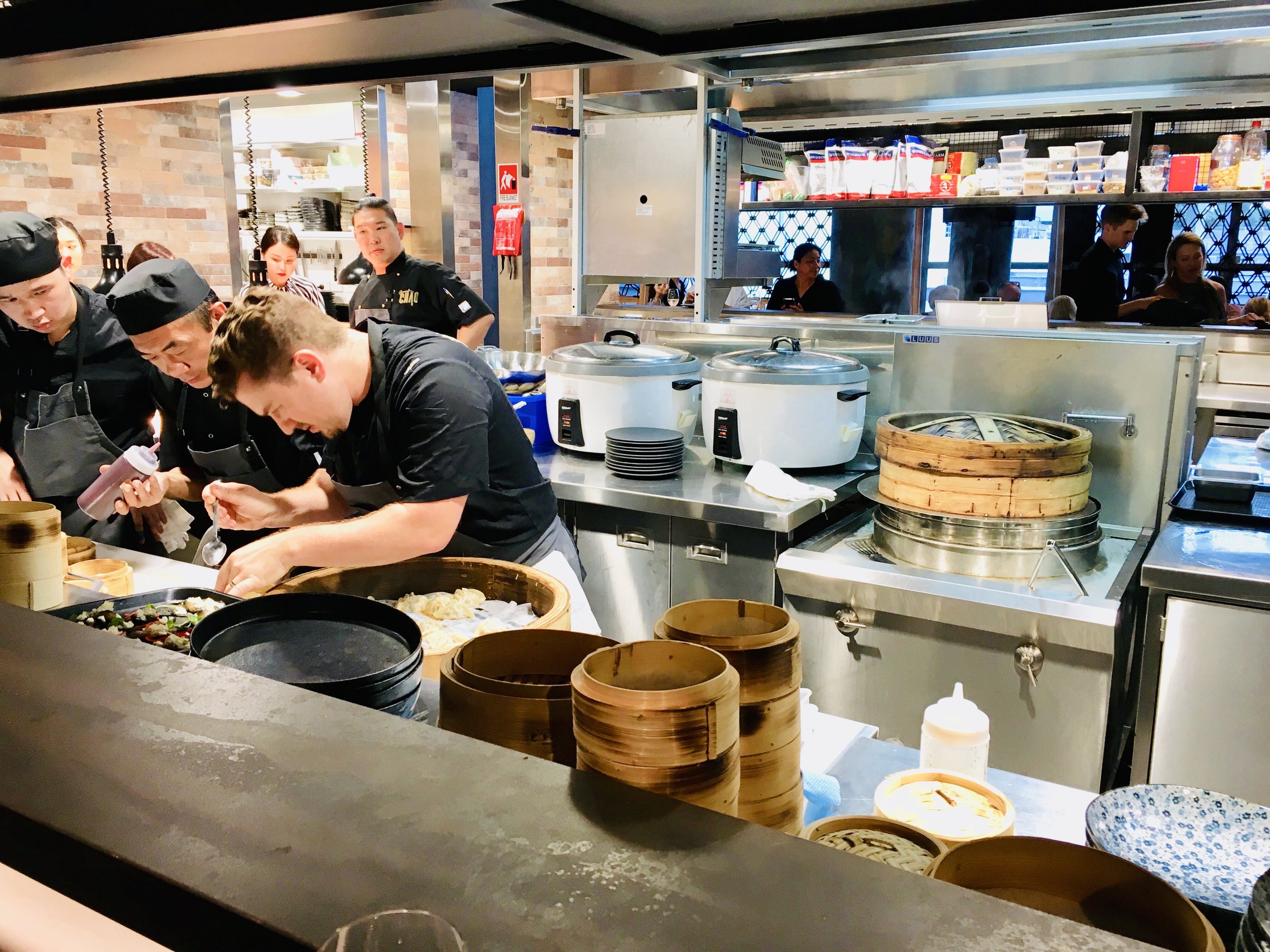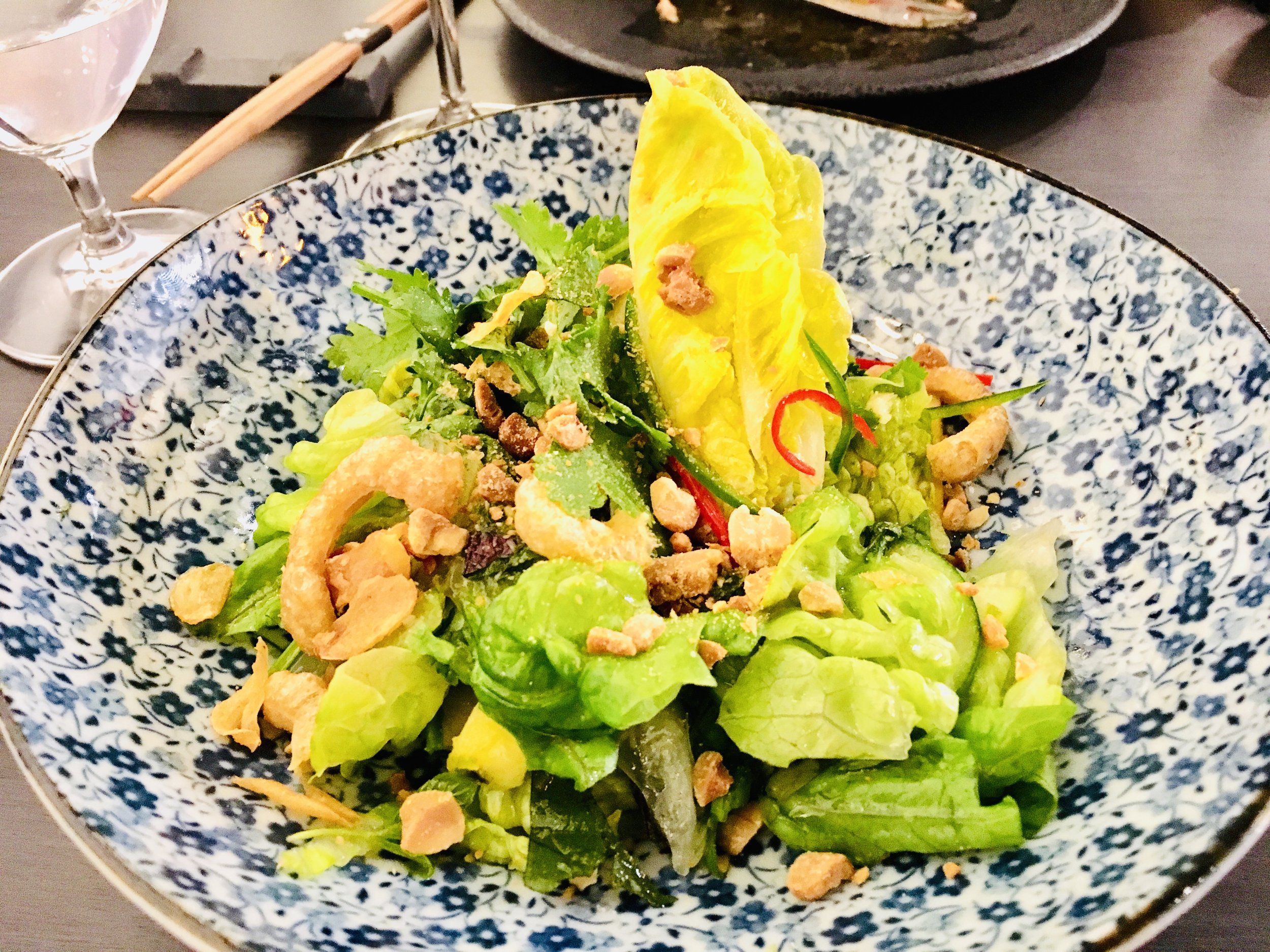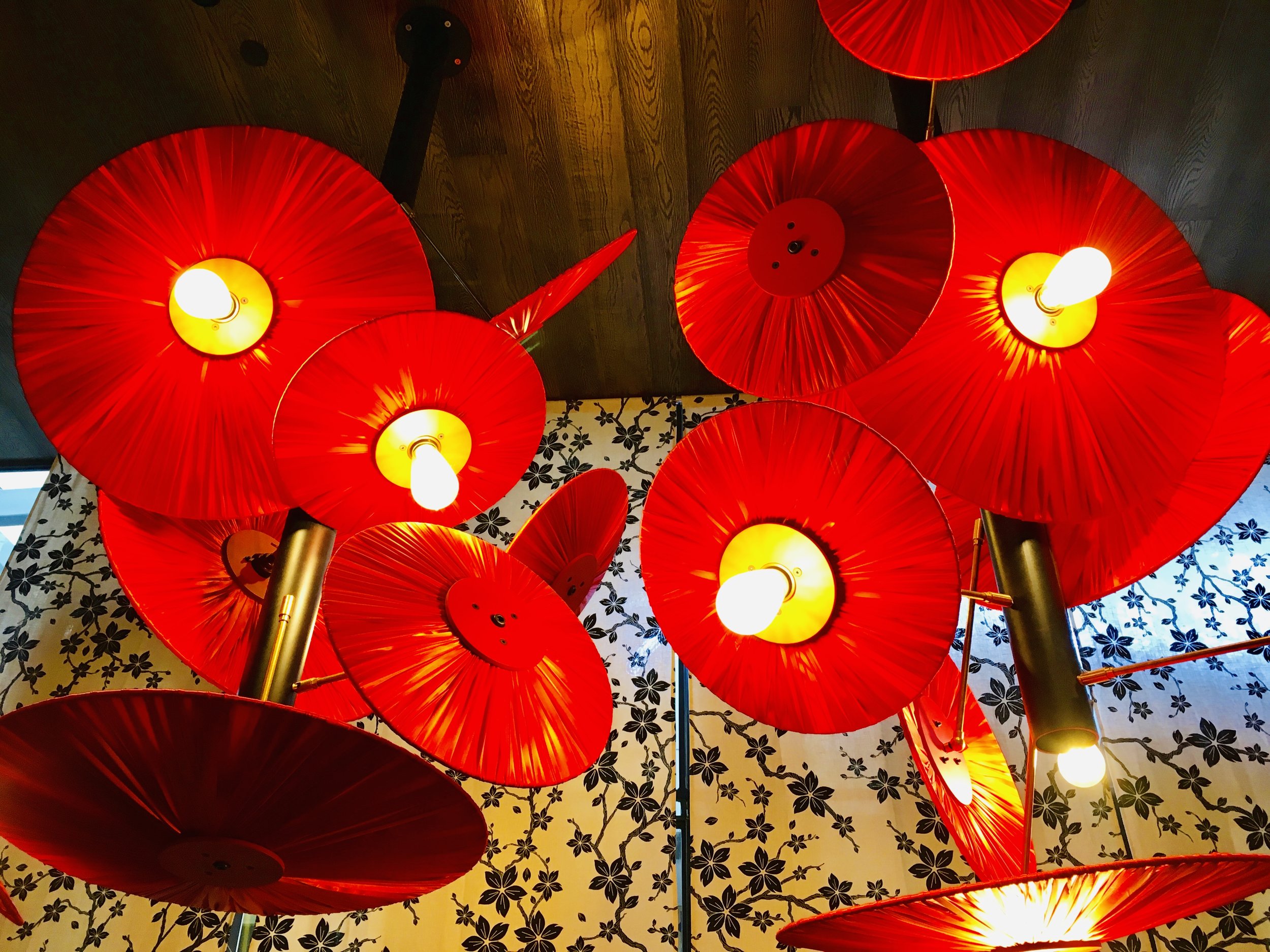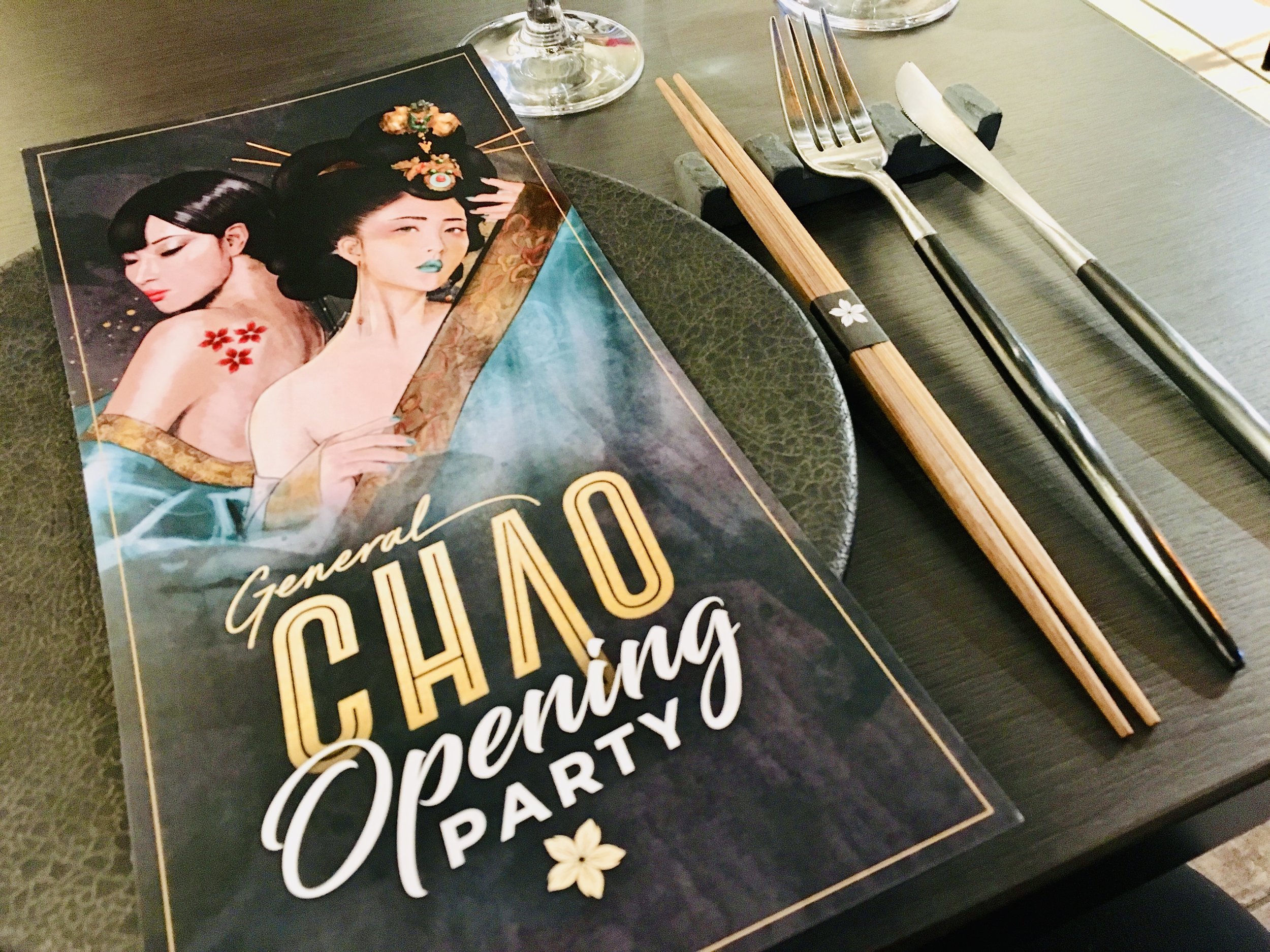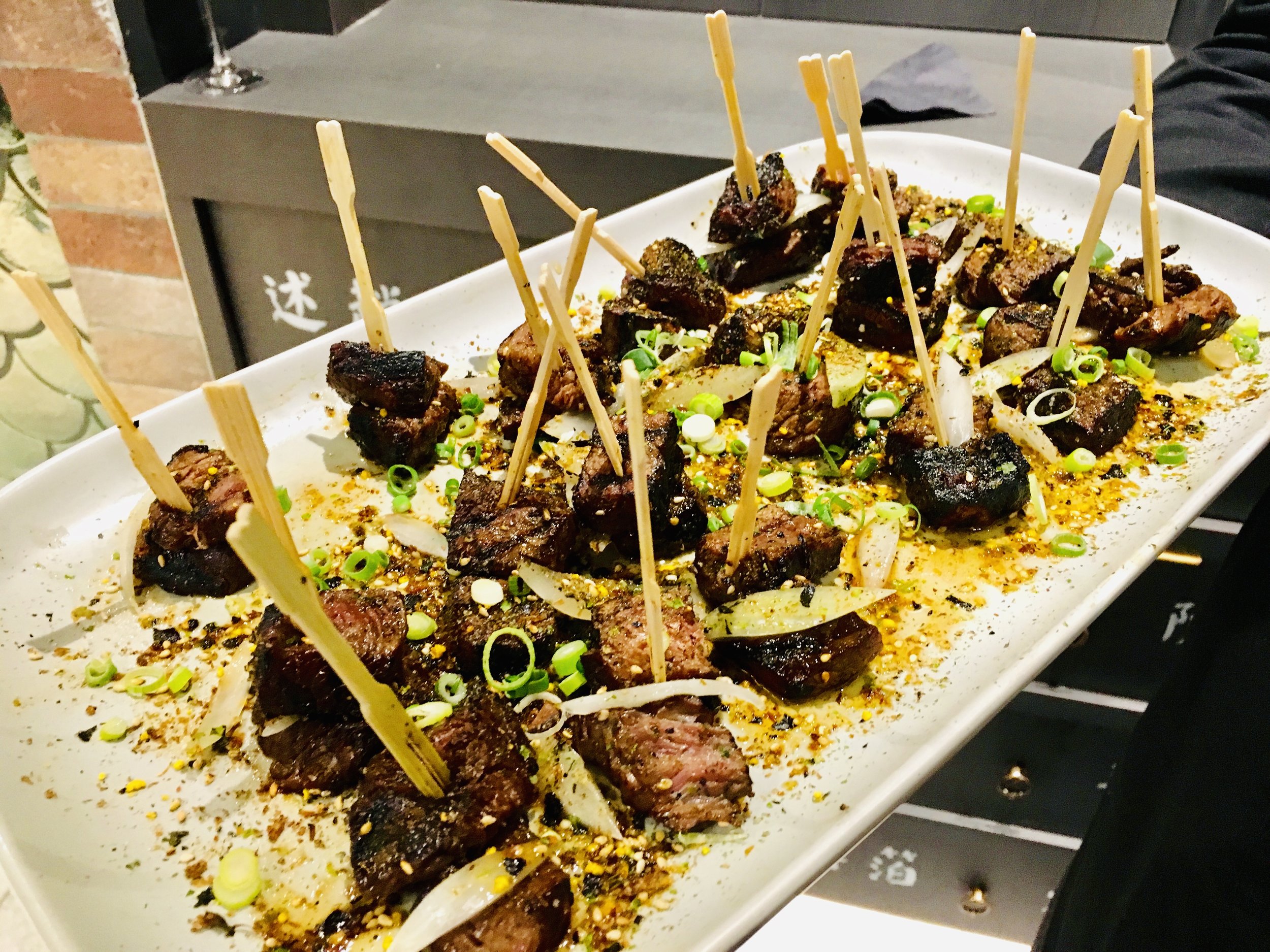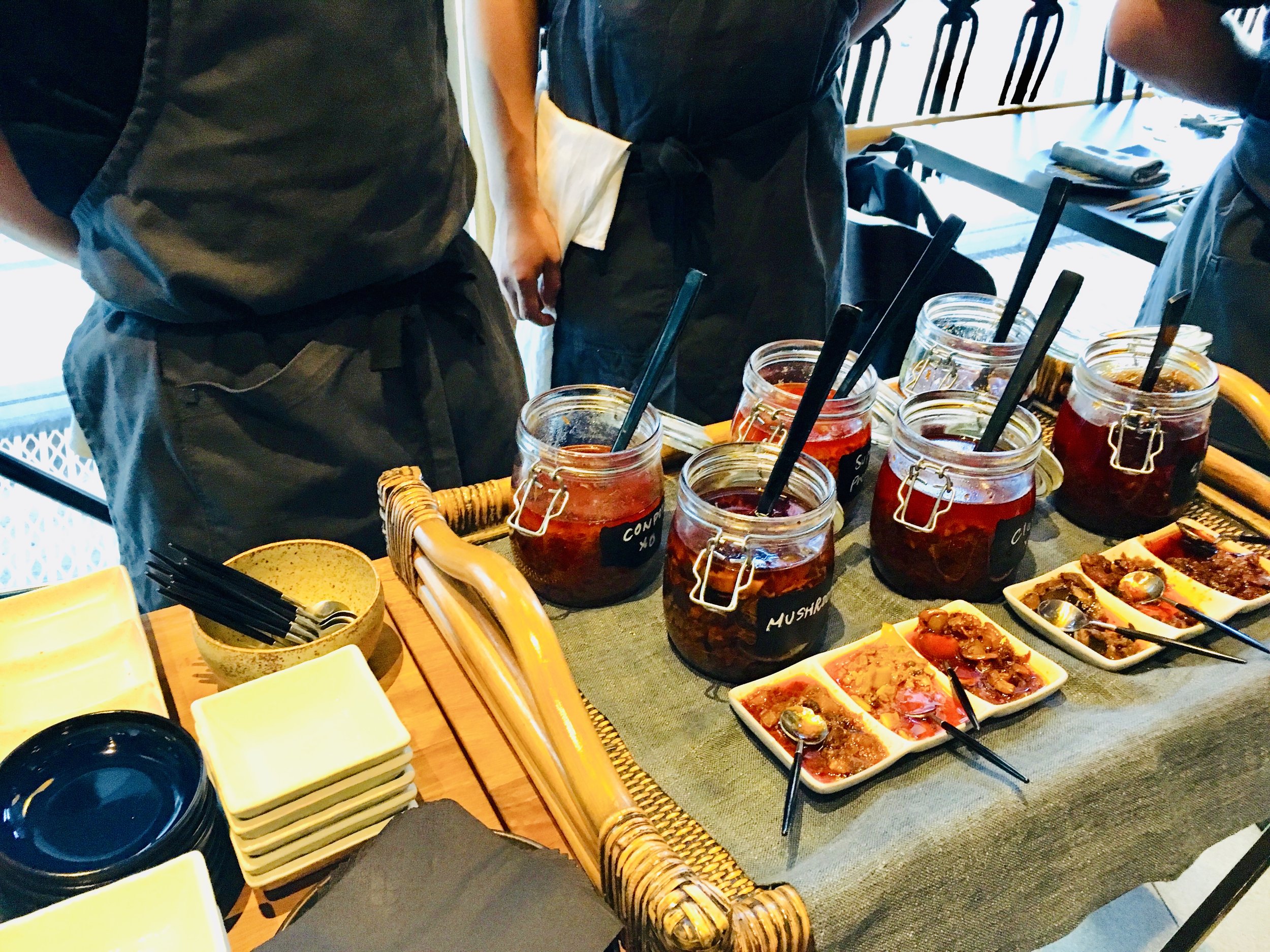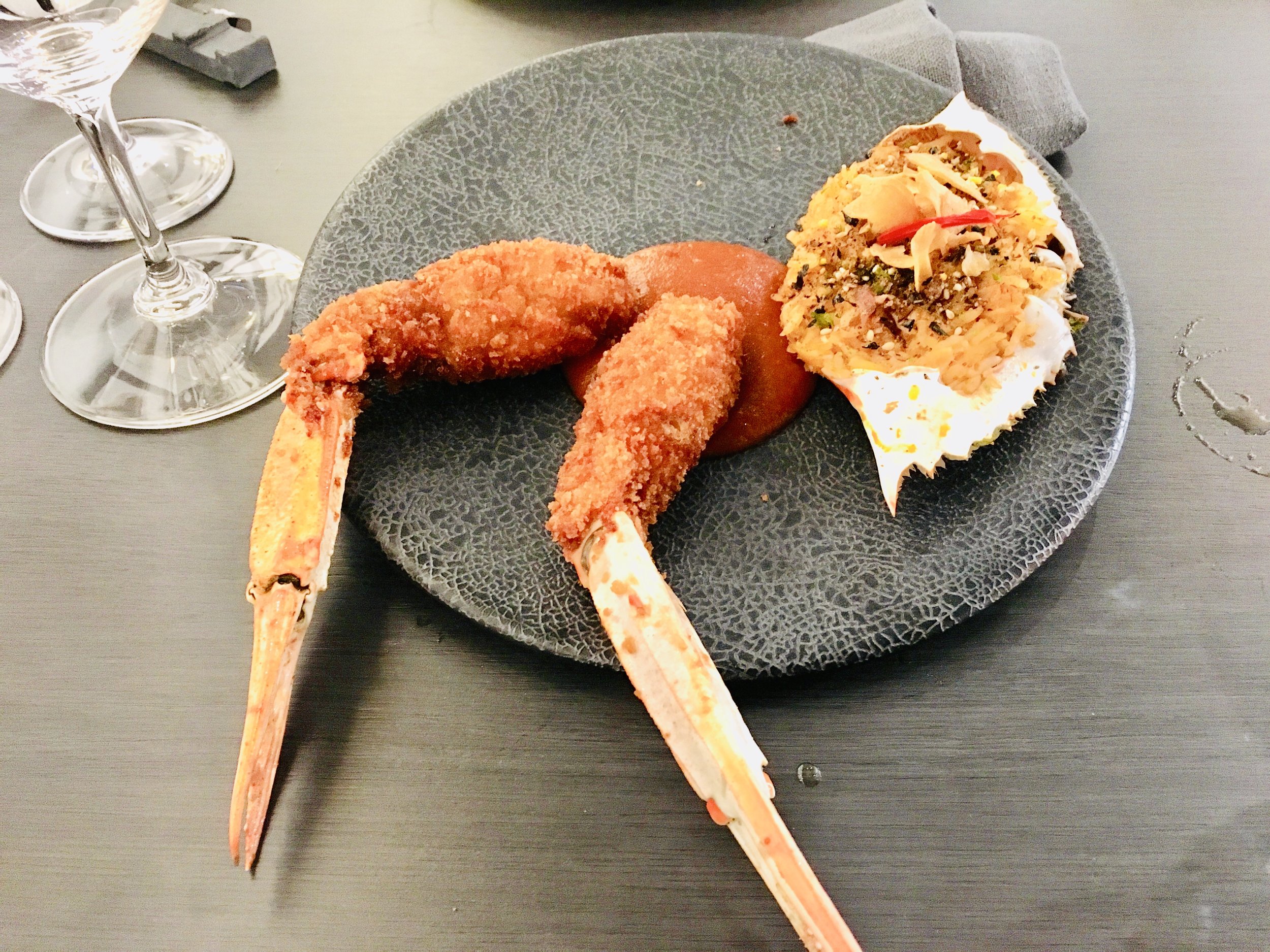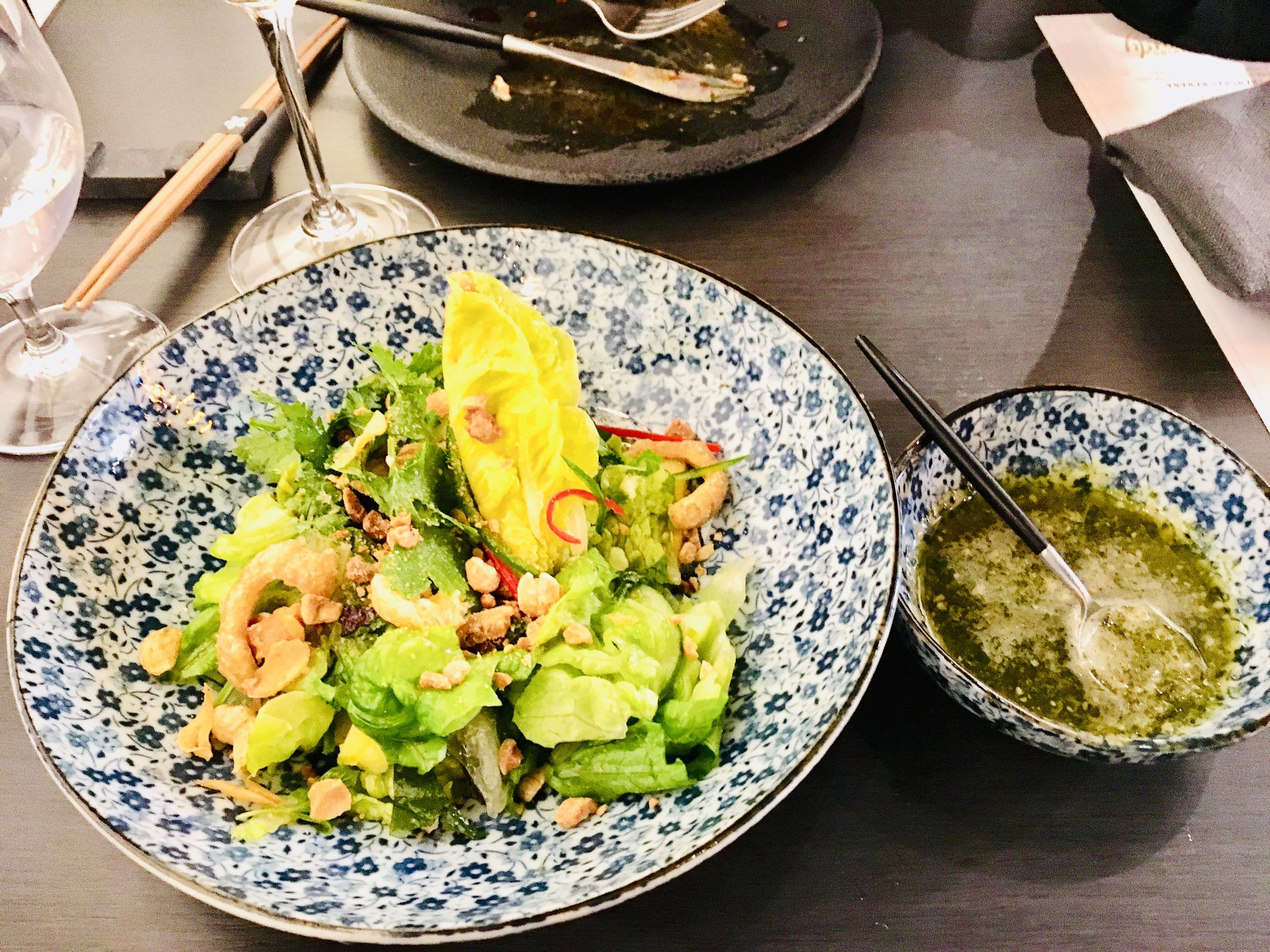 General Chao
District Dining – Chatswood Interchange
436 Victoria Ave
|Chatswood, Sydney
What a treat it was to be part of this glamorous event! The official opening party of General Chao, in Chatswood's busy Asian-influenced District Dining, just beside the station. This is a very stylish venue – a big space, where the bar on one side is decorated with striking Asian artwork and the seating area is focused around an open kitchen.
There is table seating all around the kitchen area but the stool seating around the "kitchen bench" is a wonderful experience. You can watch all the flair and finesse of the chefs at work!
We are indulged in starters at the bar, including signature dishes in sample portions and a special tasting table featuring the exciting range of house-made XO sauces available. A good XO is a true delicacy treasured around the world for. It's technical construction and fabulous taste. These were superb.
The starters were all delicious! The Sashimi Grade Hiramasa Kingfish with black sesame and yuzu mayonnaise was a treat. The flavours were delicate and showcased the quality of the fish.
MBS6 Wagyu Beef with black garlic, fermented onion and smoked soy were sublime – you could hear the gasps of delight as they were being devoured around the room. Perfect combo of taste and tenderness. An absolute winner!
These "Laksa" XL Prawns on skewers were so juicy, with such a delicious sauce underneath we wished we had spoons!
After taking our seats in the main dining area, we are served Jasmine Tea-Smoked Duck Dumplings which were the perfect example of silky pastry encasing an equally silky filling. The touch of plum sauce on top worked well and they were so easy to eat!
Now the Crispy Pork Crackling Salad was a complex combination of leafy greens and fresh herbs with pineapple, green apple and roasted peanuts. We drenched it with the absolutely delicious nam jim dressing, served separately. This was an outstanding dish full of strong, balanced flavours.
Prawn Toast arrived next, on a cute wooden rack and accompanied by spicy XO mayonnaise. Not your average prawn toast – this one was by far the best we've ever had. So crispy and tasty with that amazing XO sauce lifting it to dizzy heights. Wow!
Head Chef Son Sewoo aims to surprise and excite diners by giving his very own style to well-known dishes and he certainly does it well. The Singapore Chilli Blue Swimmer Crab was no exception, arriving in a deconstructed arrangement. The tasty fried claws were a treat but the crab rice in the shell was brilliant.
The last of the mains, Master 24 Hour Braised Pork Belly, was a tender slice of pork flanked with Asian greens, Shiitake mushroom and braised radish. It was served with master stock broth. The time and care taken with it's preparation was evident in the depth of flavours achieved.
Dessert didn't disappoint either – the Petit Shanghai Banana, wrapped in crispy egg noodles and served with coffee caramel and stem ginger ice cream was a perfect way to finish such an outstanding meal.
General Chao's regular menu offers tasting and share options as well as main meals and banquets for groups with separate stylish function rooms. Diners can have anything from a tasty snack to a big elaborate feast. There is an exceptional range of beverage options designed by master mixologist Michael Chiem so this is also perfect for an after-work drop-in. We wish the team here well and we will definitely be back for more!
Those dames dined as guests of General Chao. Thanks to our lovely hostess Bridget. Special thanks to The Mint Partners for arranging this invitation.