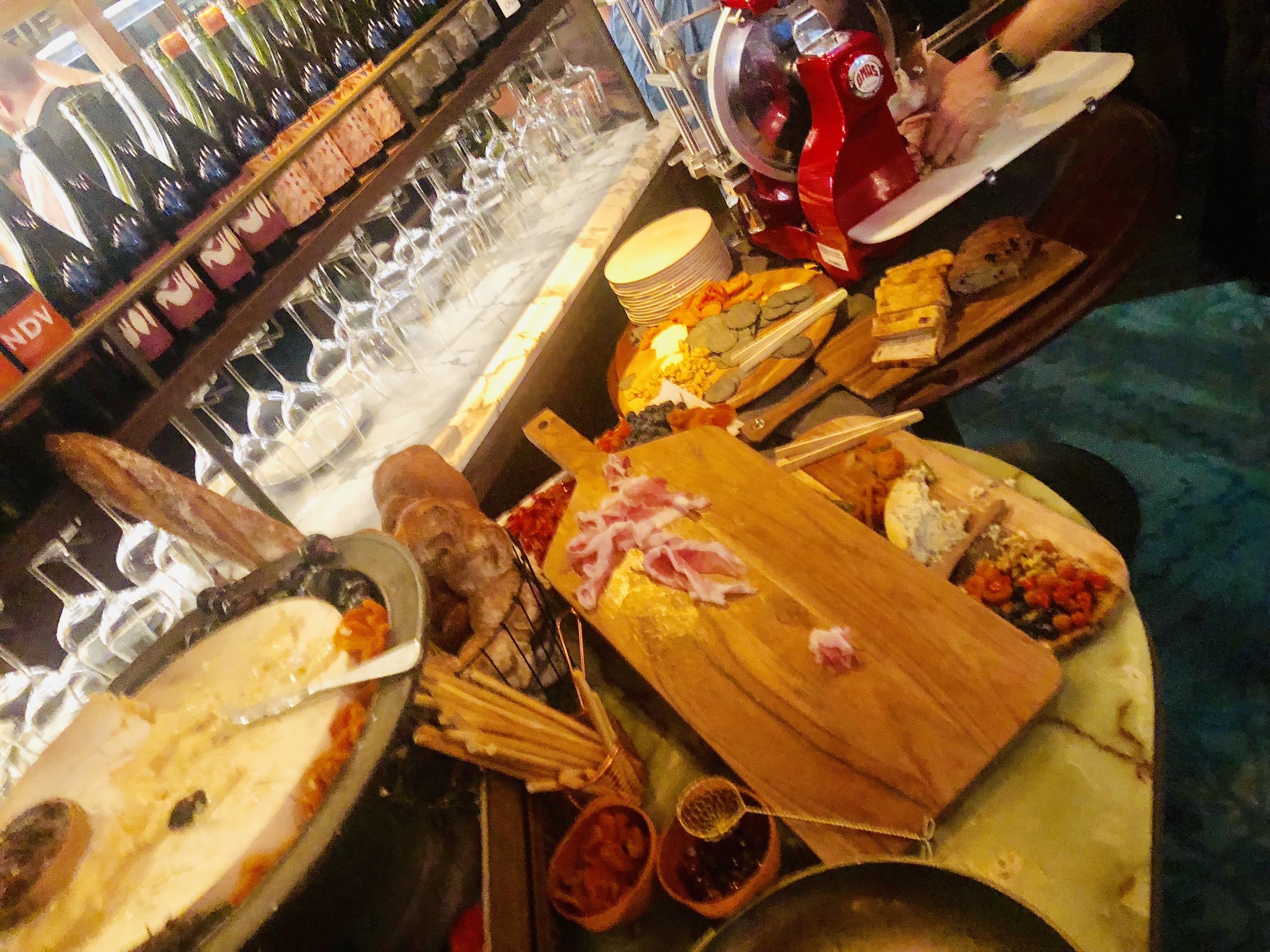 Bopp and Tone is such an exciting addition to the Sydney bar scene. With a romantic, 1940s theme running through the whole venue, great cocktails and incredible food, it feels like you've stepped right onto a movie set. The bar is inspired by, and named after, the grandfathers of the two guys who own Bopp & Tone and showcases everything they loved. With family photographs on the walls and soft furnishings, it is so easy to feel right at home in this inner city bar which is yet another great Applejack Hospitality addition to Sydney.
We were invited to visit on their opening night which showcased their drinks and food menu. The Mumm champagne and cocktails were flowing and the service was excellent, it was such an incredible night.
The charcuterie table had the most amazing selection of cured meats, cheese and accompaniments including blue cheese and honey, salami, pickles, bread, prosciutto, soft brie and fruit. In addition the waiters serving a showcase of their menu options including Pacific Rock Oysters with compressed pear and chilli, pecorino and honey, crispy sardine sliders, clam arancini balls, and smoky ribs. To finish off the evening we were treated to liquorice ice cream with fairy floss.
All of the food was absolutely superb. So fresh and such thoughtful flavours, every mouthful was delicious. Every single one had such a great combination of flavours, and most of them quite unusual (in a good way of course. The standard menu at Bopp and Tone features a variety of fresh seafood and wood grilled meats - all the things Bopp and Tone loved in their post World War II era. I spoke to the bar manager for a while who raved about the menu and made me promise I'd come back for a sit-down meal.
Bopp and Tone also has a beautiful terrace area, perfect for an after work drink or a light Sunday lunch with friends. In the centre of a busy city, this bar is sure to transport you to another era and let you escape the hustle and bustle. Such an exciting new bar that I would definitely visit soon, before there is a line around the block. But if there is, it's definitely worth the wait.
Big thanks to Applejack Hospitality for the great venue and evening. Big thanks also to Pendulum Communications for the invitation.