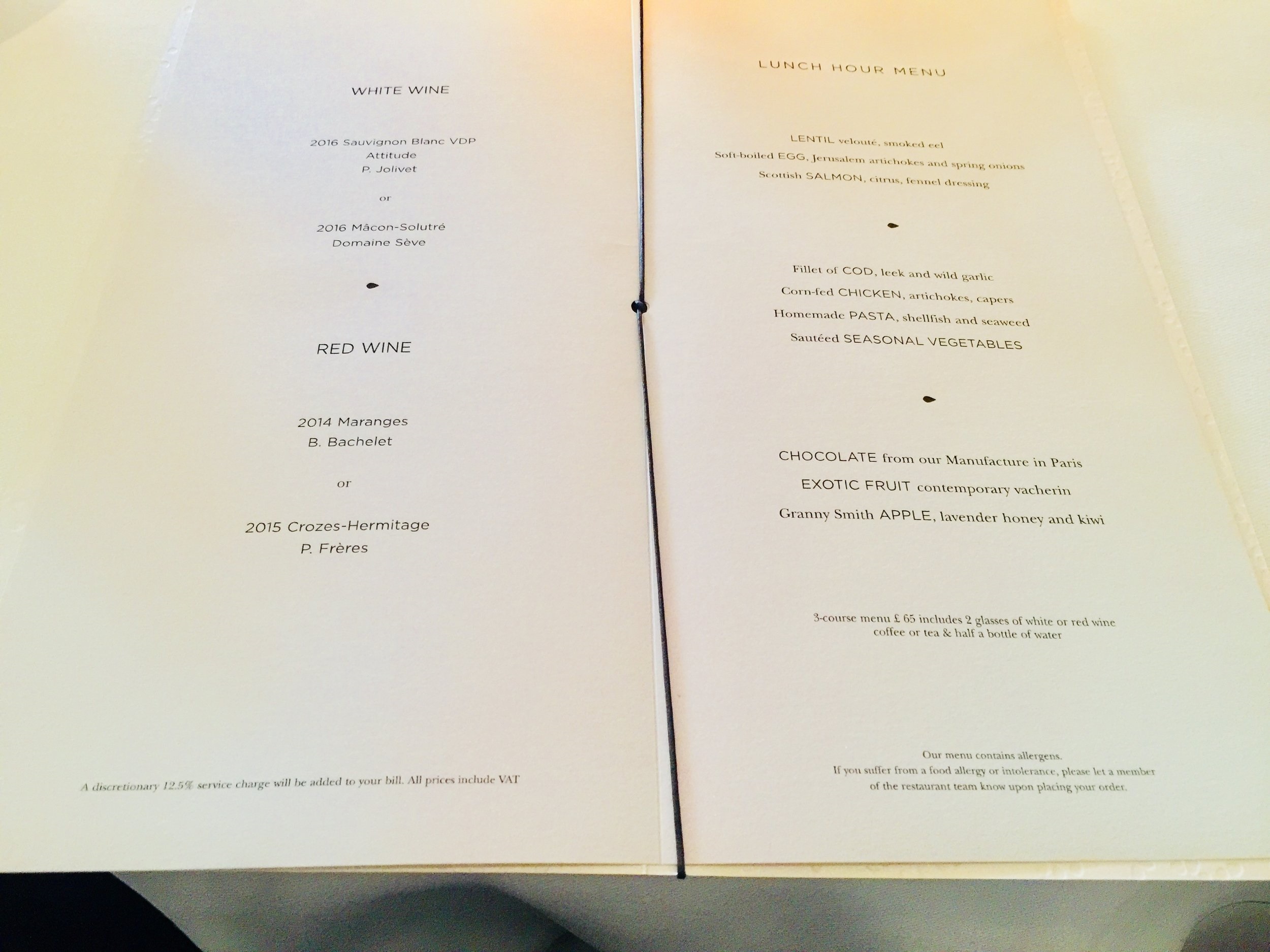 Alain Ducasse is a name that immediately resonates with food lovers in London and around the world. His restaurant at the Dorchester has had three Michelin stars for years. It's a beautiful hotel and the restaurant itself is just as impressive. The glistening "curtained" private dining room in the middle is also a sight to behold. The whole place exudes sophistication. We couldn't resist visiting on our last trip to London.
We started our food adventure with some lovely puff pastry balls. They were light, delicate and a wonderful way to whet the appetite without being overly filling. Some house-churned butter went nicely as well.
The lentil veloute with smoked eel was a subtle yet tasty dish. The flavours combined nicely in this delicate combination.
The Scottish salmon was beautiful. Such rich colours and great flavours. It came served with citrus and fennel dressing. It was a dish that popped on the plate and tantalised the taste buds.
The fillet of cod was a lovely piece of fish cooked to perfection. It came served with leek and wild garlic. Again, the colours on the plate contrasted so well and the flavours were beautiful.
The homemade pasta came in wide ribbons. Served with shellfish and seaweed it provided a perfect pairing - pasta and seafood.
Unsurprisingly, desserts were works of art. The Granny Smith apple was another great dish that came with lavender honey and kiwi. It looked almost too beautiful to eat.
Being indulgent, we also had the remaining two desserts on the menu. The exotic fruit came with a contemporary vacherin on top. It was foodart. Then there was the chocolate. It came in a variety of textures and tasted so good.
The petit fours were anything but "petit". We were stunned with just how many there were too. There was so much variety and they were simply delicious.
Alain Ducasse at the Dorchester is a food delight that won't be forgotten once it has been experienced. It isn't easy to attain three Michelin stars. It's even harder to keep them for years and years. This is a must visit restaurant.