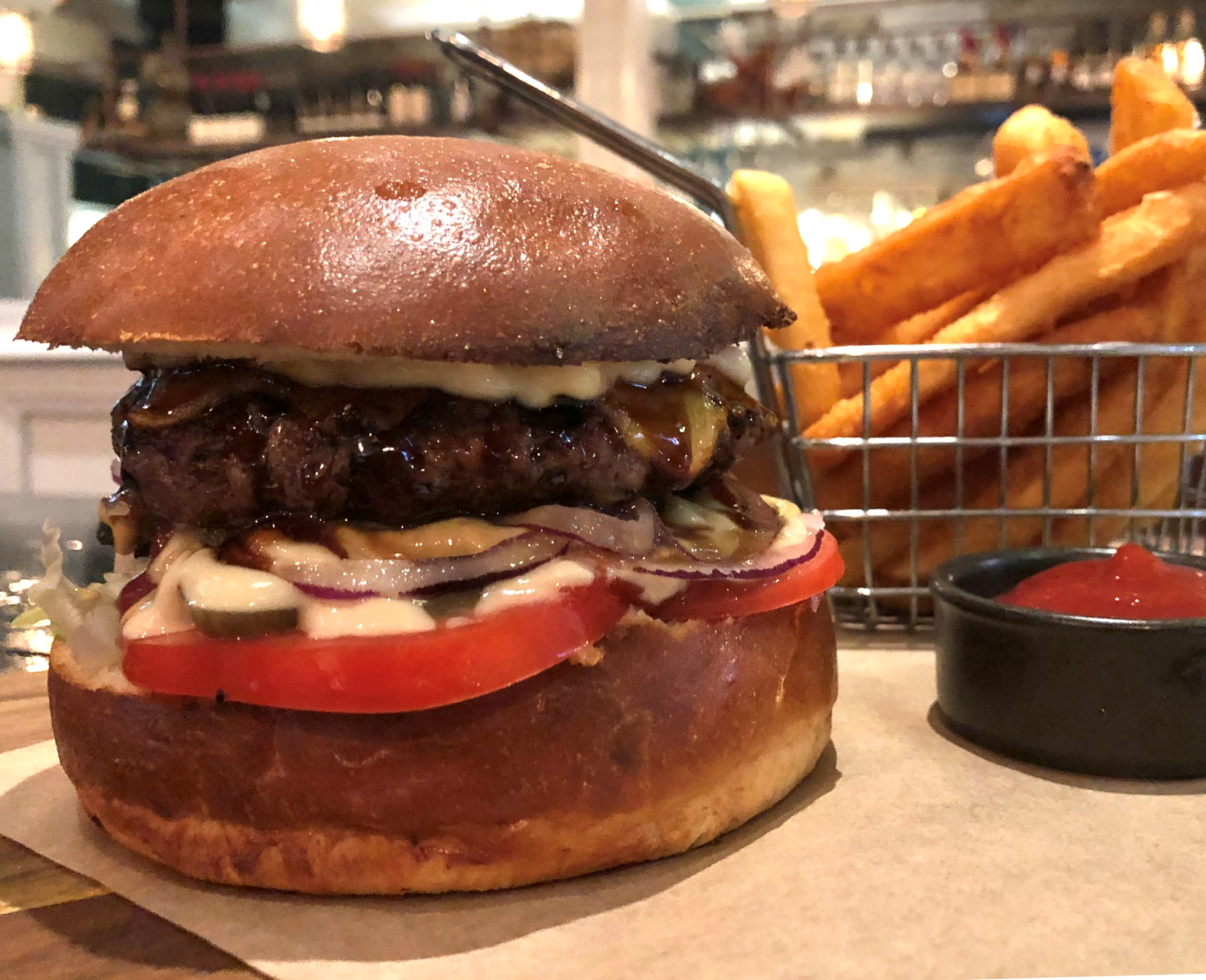 Wood and Smoke bar is the reincarnation of the Rabbit Hole, that operated in Elizabeth street for quite a few years. Wood and Smoke is operating now in Darlinghurst, where Johnny Fontane's used to be.
It's a cool venue, with a wooden interior, impressive bar (well stocked and ready to please any palate) and lots of seating across multiple levels and a courtyard at the back.
We arrived on a Friday evening and the place was buzzing, with a mixture of after work patrons, locals and even a cute cavoodle nestled underneath one of the chairs.
Keen to kick off our weekend, we thought we'd start with a drink but with quite an impressive list of drinks to choose from, we weren't quite sure where to start. Wood and Smoke has a very comprehensive selection of beers to choose from but lots of cocktails too. We started with the Wood and Smoke cocktail, the venue's namesake. It had makers mark, Laphroiag lager and a burning cinnamon stick. Quite the site to watch and a very strong cocktail to drink. We loved it.
Next, we tried a cocktail that wasn't on the menu. The barman asked us if we would be willing to try one of his new creations which he was thinking of adding to the menu. We said yes of course and enjoyed a beautiful gin-based drink with a ginger hit. It was gone in minutes (we wonder what they will call it?).
Time for some food now and the Wood and Smoke Bar has a great menu ready to satisfy any taste with a mixture of starters, share plates and burgers too. Pizzas are being added to the menu soon too (note to self, gotta come back for those). We started with some share plates and chose the grilled Salmon, seared Tuna and eggplant.
All three dishes were beautifully cooked, well-seasoned to maximise flavour and with great presentation.
The seared tuna was served with charred avocado and pickled vegetables which is such a lovely combination of flavours. The salmon gave out hints of Teriyaki and the eggplant oozed of miso, garlic and paprika, giving it a lovely smokey taste.
Next, we tried a poke bowl. A plate bursting with freshness loaded with avocado, quinoa and even delicious things like corn and little broad beans. We ordered it with salmon and the whole plate was a mountain of yumminess.
We also had a go at trying the Wagyu beef burger and boy are glad we did!!!! This burger is loaded with a huge piece of Wagyu beef, jack cheese, pickle, mustard and a very special sauce that had us scooping up every bit. This is one of the best burgers we have EVER tried. It was so good, we spoke to the owner who brought the chef out, so we could thank him and congratulate him.
We finished off our evening with a GVT cocktail, a lovely, fragrant drink with Gin, violets and tea. It was a lovely drink to end the night and so cute to look at, as it had violets sprinkled on top.
Wood and Smoke bar offers the complete package. Great atmosphere, good service, delicious food with choices to cater for any mood, and of course, great cocktails. We will most certainly be back, especially to try their pizza menu!!
The Counts dined as guests of Wood and Smoke. Special thanks to Joe from Now Communications for arranging this visit.