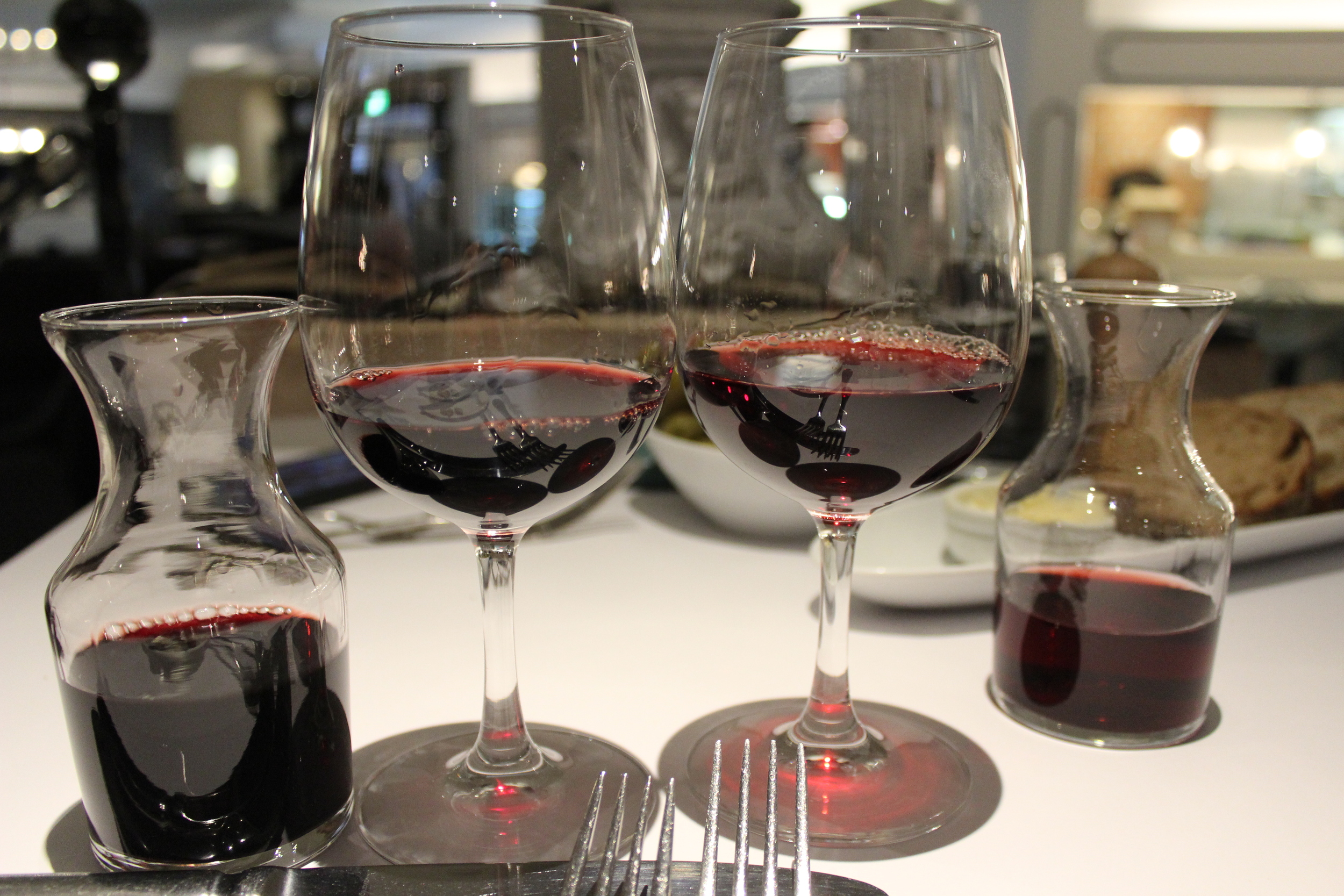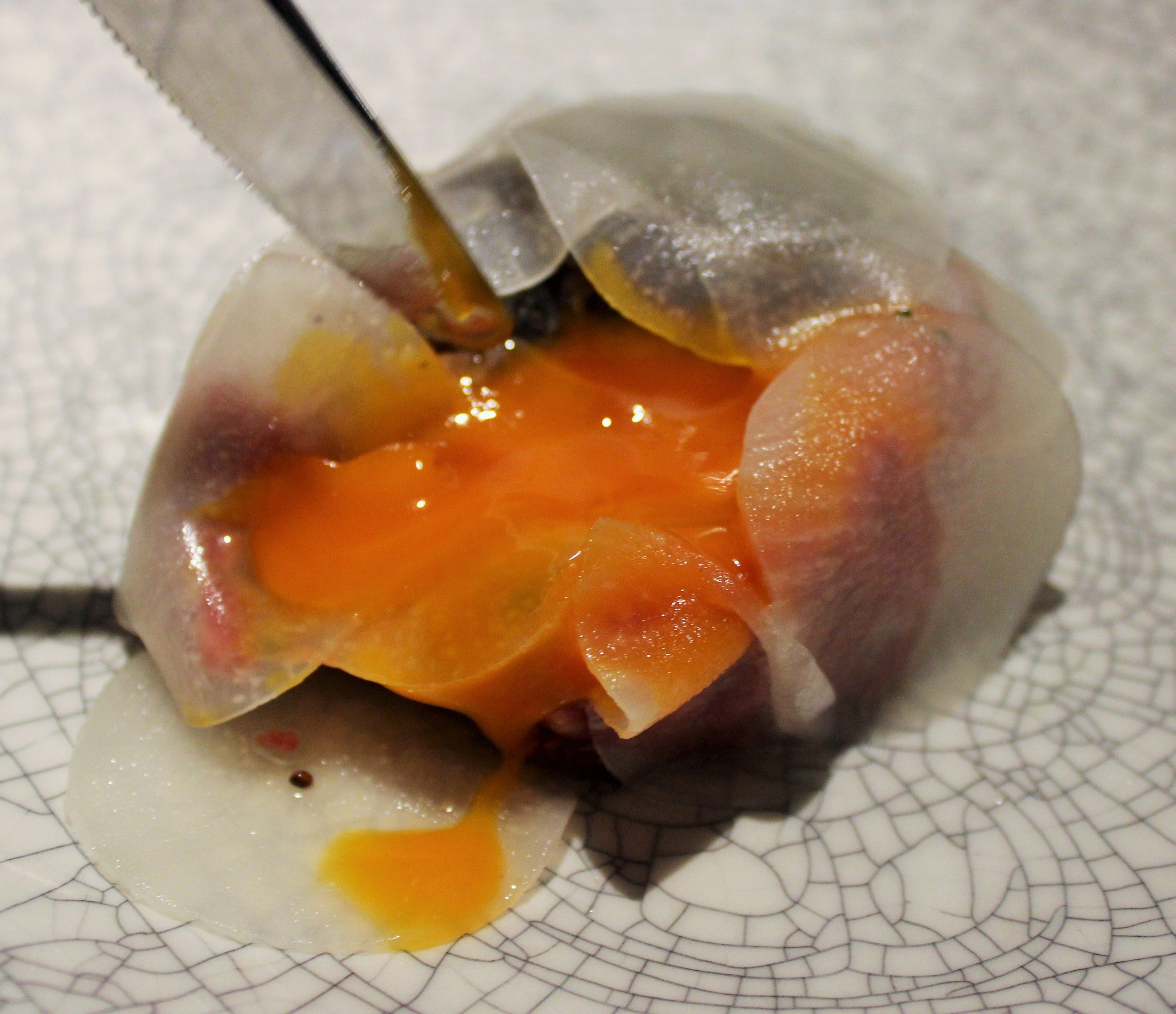 Rawsons Restaurant
The Epping Club
45 Rawson St
Epping, Sydney
Rawsons Restaurant is located downstairs on the left as you enter into the Epping Club. What a spectacular entrance! A beautiful gold circular lounge takes centre stage as you walk in, where you can sit, relax and marvel at the beautiful surroundings.
Rawsons is airy, beautifully decorated and there are separate function rooms inside for those intimate gatherings and one of those gorgeous rooms is used specially for degustation's.
It is a split level restaurant with an open kitchen and bar area.
We started our meal with a delicate serving of pumpkin soup – to whet the palate. Love a good pumpkin soup.
Next we had the organic sourdough with house cultured butter for two. This butter was good. Mlady does not usually put too much on – but did this time even when down to just having the crust left of the sourdough she was eating – just had to put more butter on it.
The Gordo olives were next. Sir and Mlady love their olives. These were plump and tasted so good. They really had a great tasting marinade. Loved them.
Mlady had a Merlot – Thorn-Clarke Sandpiper from South Australia and Sir had a Robert Oatley Pinot Noir from Mornington Peninsular Victoria – they both went well with our meals.
The wine was poured from such cute carafes.
As an entrée we had the "special" – the Smoked Salmon Mousse and it came with a serving of Crostini. This was such a delicate and pretty dish. The combination of the vibrant green beans and the almost glowing in colour of the thinly sliced radishes went so well with the soft and flavoursome Smoked Salmon mousse. This dish was pretty as a picture.
Next we tried the "Og" House Smoked Salmon, capers, rye crumbs, sour cream cheese and dill. How good is the combination of capers and dill with salmon? So good! The sour cream cheese accompanied nicely and the rye crumbs lightly seasoned the salmon. This was a light and refreshing dish. Mlday especially loves seafood and she thoroughly enjoyed this.
We then had the Beef Tartar – "John Dee", truffle, radish (egg yolk optional). Well, Sir being partial to beef tartar just had to have this. He had it with the egg yolk which was nice and runny. It was nicely seasoned and all the goodies were enveloped in a light casing and when you cut into this and then gently sliced into the egg – lovely. This ticked all the boxes.
For mains Mlady had the Poached Free range Chicken Breast, crisp skin, sourdough puree, wilted greens jus gras. Well, this really was amazingly presented. The crisp skin – was just that – so crisp and wafer thin. It had a strong taste but it complimented the dish so well. The chicken was moist and so tender. Again – the vibrancy of the wilted greens which just lightly cloaked the plump chicken breast - nice. This was a work of art. Did not want to spoil the "picture' – but the aroma made it all too hard to resist. Loved this dish
Sir had Smoked Rump cap – roasted onion, mushroom, proper red wine sauce. Oh how tender, juicy and tasty was this. Sir was in his element. It was cooked just how he likes it – medium rare. As an accompaniment to this we also had the Proper Mashed Potato. It was served in a cute saucepan – and yes it was good. Soft, fluffy and creamy like a good "mash" should be.
We also had as a side – Our table Salad. This was a twist on the ever popular Caesar Salad. Fresh iceberg lettuce, salad cream and the ever so exquisite crumbs and of course lightly sprinkled cheese to complete it. This really was a delicious salad. Mlady is a big salad eater and even Sir agreed that this was so good.
For dessert we had the Mango Soufflé and "Our Signature affogato" as described in the menu.
Seriously – the soufflé was amazing. It sat high in a cute saucepan. It was divine. So light, so very light and oh so yummy. A beautiful dessert – both in taste and presentation.
The Our Signature Affogato was elegantly presented in a cocktail glass. Salted caramel drizzled over the ice cream which sat on a tiramisu biscuit. Then, pouring the espresso over it – was absolutely mouth-watering. The desserts were a lovely finish to a great meal. Sir had a dessert wine – Vasse Felix – cane cut Semillon, which completed his meal.
In this modern dining environment – the food is exceptional and the servings are generous. Rawsons is a foodies retreat and a place that you'll want to revisit plenty of times.
Sir and Mlady dined as guests of Rawsons Restaurant in the Epping Club. Thank you to Kate, Alex, Danny, Joel and Amber for taking care of us on the night. Big thanks to Executive Chef Nick Whitehouse for chatting with us and sharing his vision and passion. Special thanks also to Keely Dornom for arranging this visit.