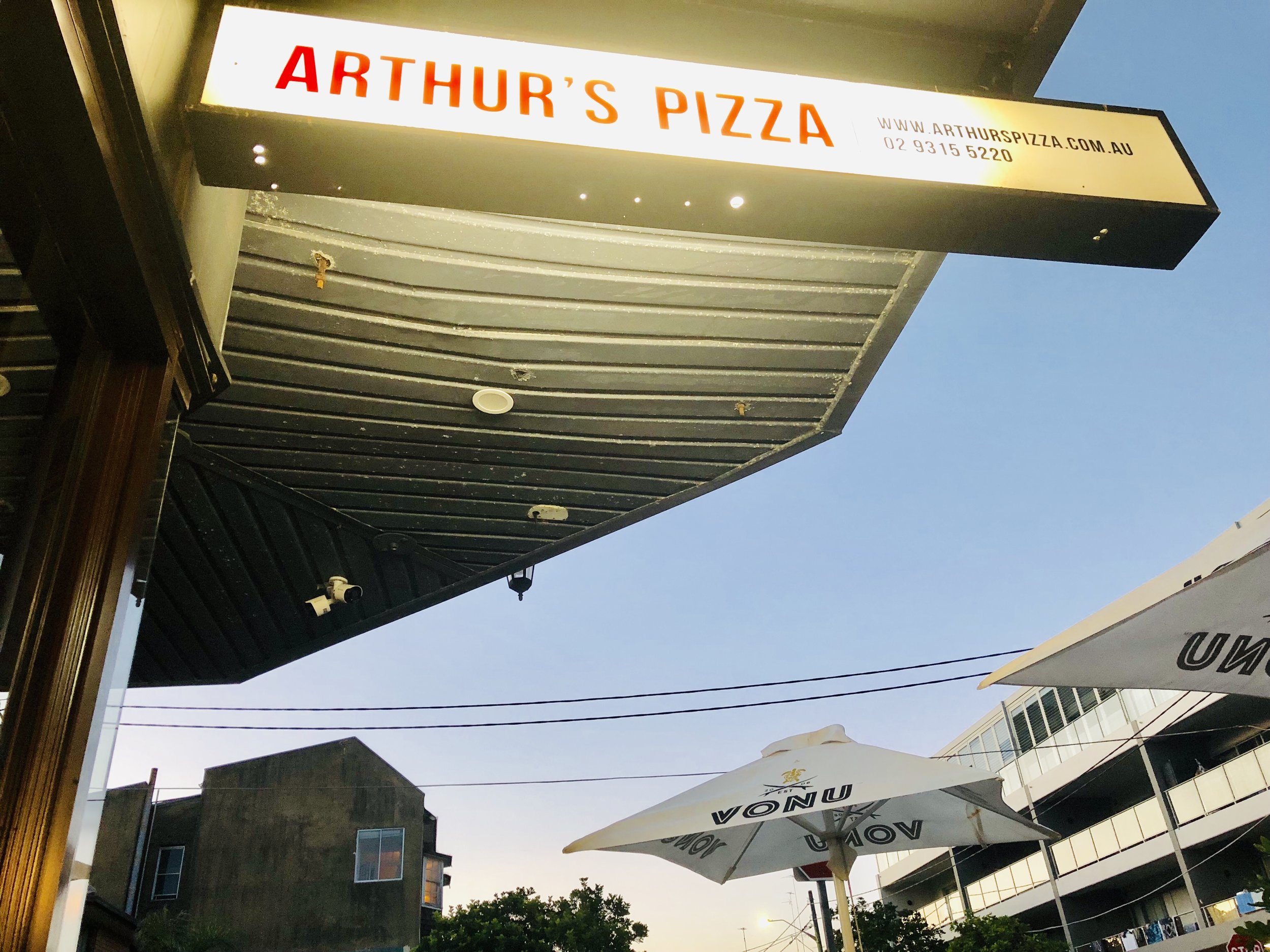 Arthurs Pizza
35 McKeon St
Maroubra, Sydney
Arthur's Pizza in Maroubra is a casual, beachside, family and dog friendly Italian restaurant that will quickly become your local favourite. Modern and fresh décor inside and beautiful street-side dining outside, this is the perfect venue for a catch up with family and friends, or your next special occasion.
Arthur's Pizza offers takeaway options and is a chain of restaurants across Sydney and you're missing out on some seriously great pizza and pasta if you don't check out your local one.
We were seated outside on a warm evening and started with some granny smith and ginger cider on recommendation from our waiter. This was the perfect, refreshing drink with a subtle kick of ginger which we loved. Although, beware if you're driving – this delicious drink is 8% alcohol and nearly 2 standard drinks.
We started our meal with a staple on any Italian menu – bolognaise. We had ours with penne as it was easier to share, but the traditional Italian way is with fettucine to make sure you can eat the pasta and sauce together as you twirl it around your fork. The bolognaise sauce was so full of flavour and tasted as though it had been cooked for hours over a stove by someone's Nonna. The pasta was cooked perfectly, and we could have easily eaten a whole bowl of this each.
Next up were the meatballs in tomato sauce – something the Viscountess orders regularly at her favourite Italian restaurant and these were up there as some heavy competition. The meatballs were cooked perfectly, were still lightly pink in the middle and super tender and juicy. The sauce had the same homemade feel as the bolognaise which was full of flavour.
We chose a side salad of rocket, parmesan and pear which was a perfect, fresh accompaniment to the other dishes. The crunch of the fresh pear, crunch of the walnuts and a light vinaigrette dressing made this an interesting and balanced side salad.
The final star of the main meal was the Pollantro pizza with chicken, cherry tomatoes, red onion, rocket and chilli. It was tough to choose just one pizza – they all sounded fantastic. With gluten free bases and vegan cheese available, and the option to build your own pizza, there is an option everyone will love. The base of the pizza was thin and crispy (just how we like it) and the flavours worked together to create a simple, yet super delicious pizza with just enough chilli to add a little heat.
Finally, when we thought we couldn't eat any more food, the waiter convinced us to try the Nutella pizza. Agreeing with the thought in the back of our heads that we'd try one slice and take the rest home, it arrived on our table in all its glory. Topped with banana and strawberry and representing almost a pizza pocket with Nutella between two layers of dough, this was by far the best Nutella pizza either of us had tried. Usually too sweet for the Viscountess' liking, this Nutella pizza was balanced with the savoury dough and the freshness of the fruit. Needless to say, there was none left to take home.
The Viscountess dined as guests of Arthur's Pizza. Big thanks to everyone there for hosting them and showcasing the incredible food. It was such an enjoyable dining experience. Special thanks to Ompty Media for arranging g this tasty visit.