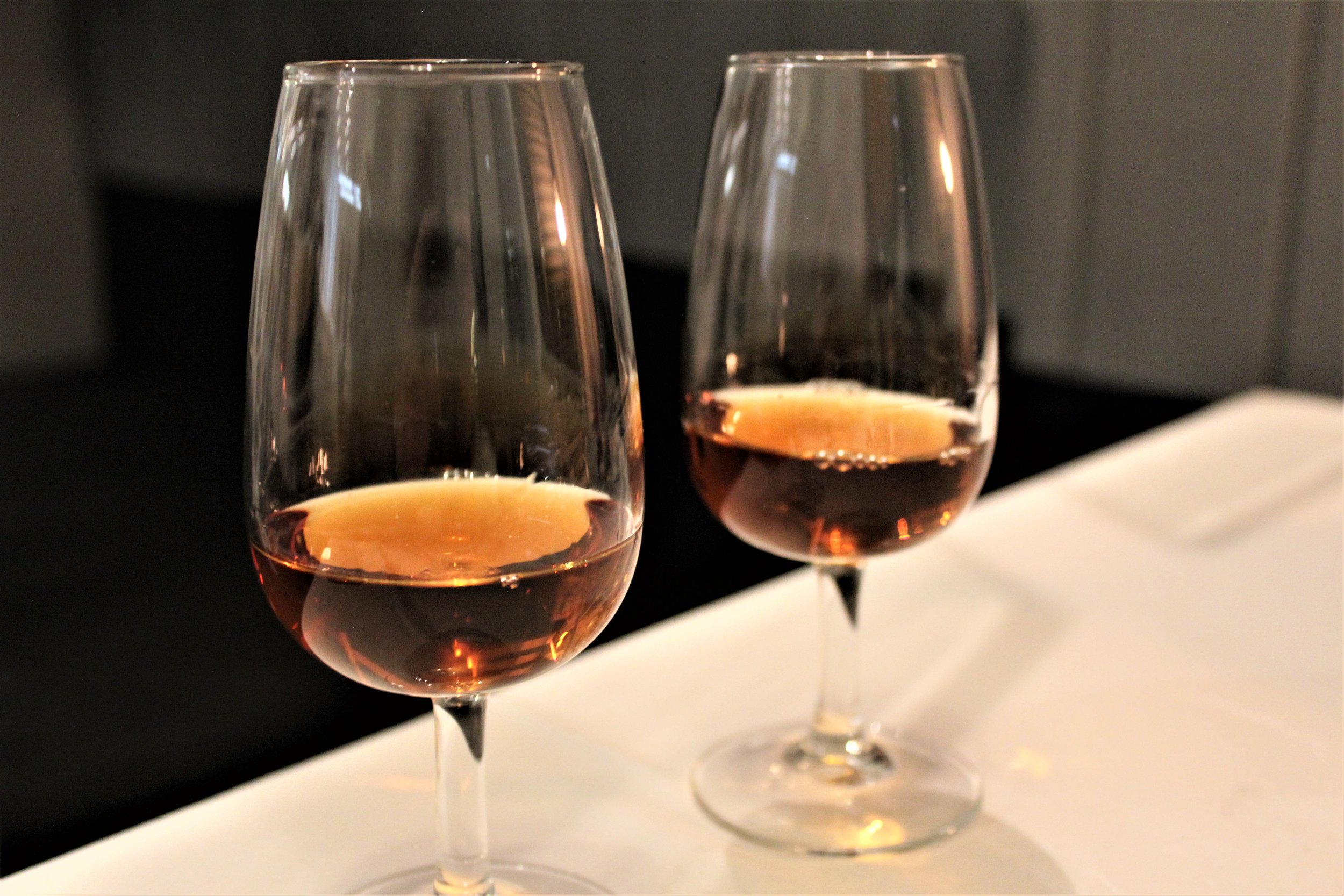 What strikes you as you walk in to William Blue Dining is the lovely set-up. The ambience has neutral colours which give it crisp clean lines. The tiered walkway gives it another dimension and you can clearly see that it is fine dining.
You can see the open kitchen and this is where the brilliance happens. The College is staffed by hospitality students. There is a wall with pictures of those that have graduated previously. This is a lovely touch - to acknowledge these accomplishments.
For our drinks Mlady had a Pinot Noir - 2017 Giant Steps Yarra Valley Vic and Sir had a 2014 Woodstock "Octogenarian" Grenache McLaren Vale SA. We both enjoyed these palatable drops.
We started with complimentary bread and butter (Pepe Sayer) and then ordered our entrees.
Mlady had seared scallops which were deliciously showcased on a black background. They were plump, juicy and sat well with the green foliage and were also lightly flavoured.
Sir ordered the Charcuterie. This was generously sized with a nice selection of different charcuterie. Sir loves pate which this entree included - so this was a winner with him. There was also a generous serving of buffalo mozzarella that combined so well with the yummy pickles.
As a main Mlady had the Herbcrust Blue Eye Travalla. Mlady is a fish fanatic and this dish was perfectly cooked - not at all dry - it was tasty and moist. The serving was generous and she made sure she used her spoon for the yummy broth.
Sir ordered the confit duck leg. We all know that Sir LOVES duck so was no surprise that he would choose this. This was beautifully presented with a great combo of flavours and it was a good quantity too.
Our mains were both bought to us at exactly the same time - now that's great service! The wines were good choices (recommended by our waiter Hao) so we stayed with them and moved on to seconds. We thought that we would have a side and decided on the Lyonaisse salad. This was simply divine. It was similar to a Caesar salad but not as heavy. It had a lighter dressing, there were bacon bits, large croutons and a perfect egg. Loved it!
Dessert was next and with this we both had a Pedro Ximenez each - nice. It's a drink (Spanish sherry) that is a favourite of ours.
Sir had Toffee apple and Mlady had flourless chocolate cake. Both desserts were total works of art. Sir's had wonderful puff pastry with an incredibly delicious chantilly cream. The subtle flavour of apple was such a wonderful combination. Sir is a HUGE fan of pastry - so what can we say - another winner!
Mlady's - where to start? Seriously the raspberry just did not add colour but also tasted so good. The only way to be able to describe the yummy taste of the raspberry "slices" is to say that they were "toffee-fied". Oh they were so good! Sometimes raspberry flavoured things can be a bit sour tarty (for want of a better word). The cake too was appetising. Mlady has never had a raspberry flavour taste this good. Thoroughly loved this!
The food here is excellent and the service is impeccable. They have very generous servings and it's all very visually appetising. The staff are well informed with whats on the menu and are also well trained in matching wines with the food you choose.
Sir and Mlady dined as guests of William Blue College of Hospitality Management. Big thank you to Anthony Mitri from Torrens University for greeting us and telling us all about William Blue. Thank you to Billy the front of house teacher for chatting with us. Thank you to Chef Megan and her crew for the great food and thank you to Hao for looking after us on the night. Special Thanks also to Diane Falzon PR for arranging this visit.