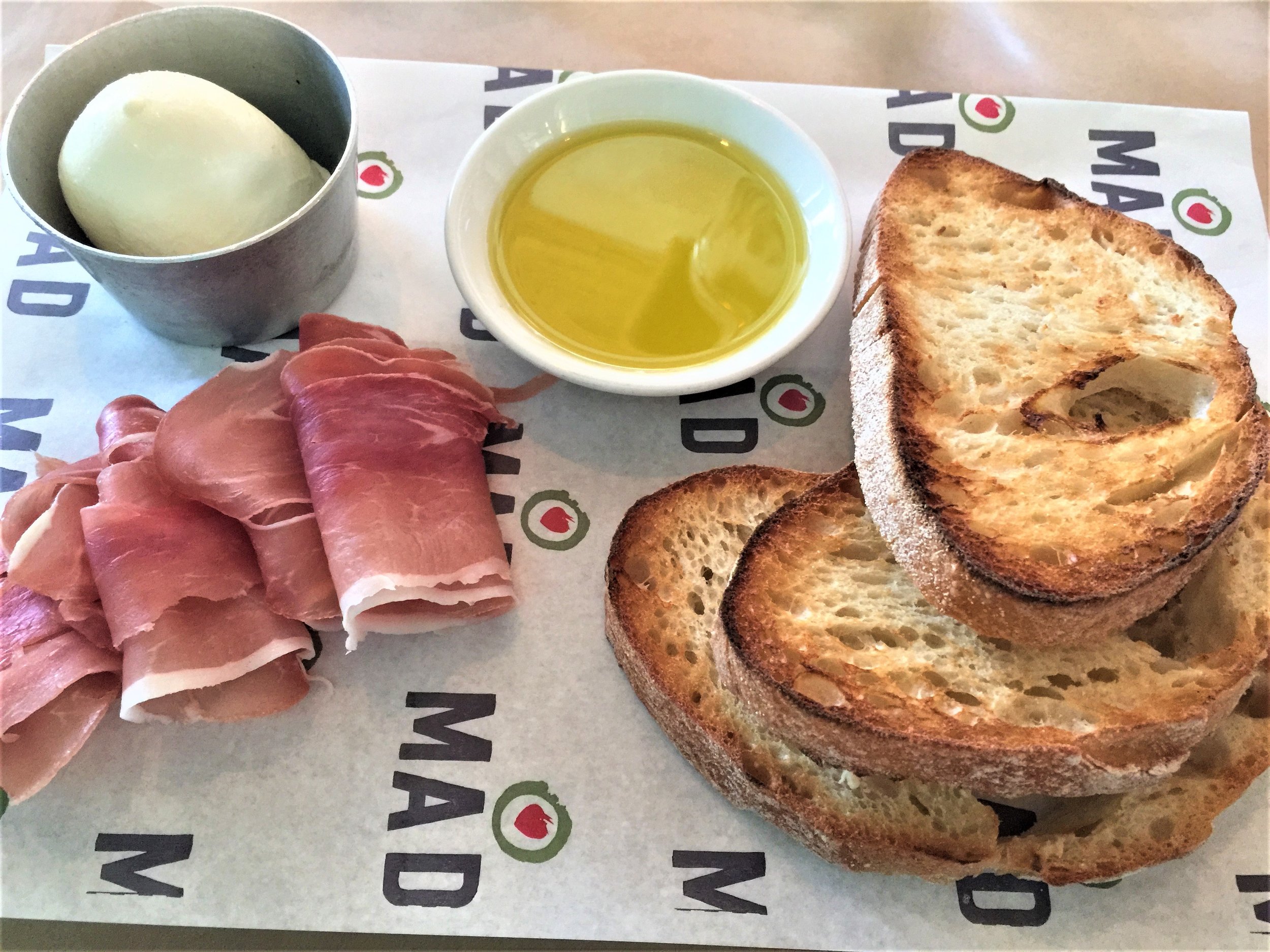 Mad Pizza E Bar
15 O'Brien St
Bondi Beach, Sydney
The Mad Pizza odyssey has spread its wings across several areas of Sydney now, with two outlets in Darlinghurst, one in Potts Point and another, this one, in Bondi Beach. It has the same upbeat feel that the others have - casual, cheerful and welcoming.
With Italian food, we love the concept of nibbling on starters and often head for an antipasto or equivalent sharing plate. So spying the prosciutto and mozzarella was just what the doctor ordered! This board had rolls of jamon Serrano sliced prosciutto, a good sized buffalo mozzarella, warm organic sourdough and a dish of olive oil. It was a great combination.
Although not what you'd describe as a traditional Italian dish, truffled fries are such an appealing comfort food that they're hard to resist. Sir steers towards truffle anything so this menu option of shoestring fries with truffle oil and Grana Padano fast became a necessity. We're glad we did order them too. They were crispy, earthy and lightly salty - everything we'd hoped for.
Of course any place with the word pizza in its title means it'd be a shame to not head there on the menu as well. We of course did and chose the polpette - as busy pizza topped with pieces of Italian sausage, roasted pepper strips, red onions, pinenuts, bocconcini and chilli all on a base topped with their emiglia Romagna tomato sauce.
Our second pizza was the "go to" of margherita. The Italian flag colours of red, white and green shone through as always. It's such a simple topping combination that showcases the tomato and its often the pizza used to benchmark different venues. The Queen Margherita had buffalo mozzarella, emiglia Romagna tomatoes, oregano and fresh basil.
With variety being the spice of life, our final dish was pasta - a good old fashioned fettucine Bolognese. The hearty sauce and slightly wider pasta worked well to create a tasty dish that filled any remaining gaps.
There are a lot more menu items we could have chosen, but space is of course always a limitation. Maybe next time!
Mad Pizza e Bar has a nice casual feel to the whole place. While tables at or near the entrance always seem to go first on a sunny day, it actually spreads quite a way inside as well. The food it tasty and hearty and service was fast and friendly. Four restaurants show that they're obviously doing what people want and like.